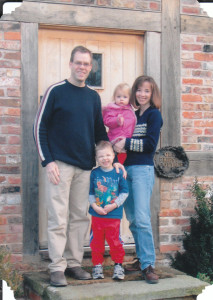 Happy New Year, friends!
Among the many treats of the holiday season, one I especially enjoyed was movie-viewing with my fam–including the delightful Shaun the Sheep, the Movie. Our family's fan-ship of Aardman Animations (the same creative genius behind the very British Wallace and Gromit, Flushed Away, and others) began more than
ten years ago, cemented perhaps by our trip to England, which occurred right around that time. (We stayed at the Priest Cottage in Frampton-on-Severn, where this flashback family photo from 2005 was taken.)
I took advantage of the holidays to take a break from reading for review and instead read two books for the sheer joy of it. And oh, what unputdownable joys they were! I can tell you right now both will make it onto my 2016 faves list. Luther and Katharina by Jody Hedlund is the breathtaking story of Protestant reformer Martin Luther's romance with the ex-nun who would become his wife, and I relished the exquisite balance of historical detail with conflict and pathos. Every word, every twist of the plot, I savored.
The Light Between Oceans by M.L. Stedman came to me highly recommended–and for good reason. A historical novel set on Australia's rugged coast in the early 20th-century, the story ramps up rather slowly, but once it takes off, there's no guessing where it will go. This haunting story touches just about every emotion–from frustration and anger to sadness and joy–all delivered in pitch-perfect prose and culminating in a deeply satisfying conclusion. The only downside is that it's hard to imagine how the movie (scheduled to arrive in theatres this year) can hope to do it justice.
[Tweet "What I'm Into ~ January edition #ShaunTheSheep @JodyHedlund #ACatNamedPebbles @KellyOStanley"]
On the subject of books, I have to say I like the looks of this 2016 Book Challenge by Praying Upside Down author Kelly O'Dell Stanley. Because of all the prescribed reading I already do, I may not be able to follow the entire challenge, but I would like to participate as much as I'm able. I sure like the thinking behind it, and I encourage you to check it out yourself.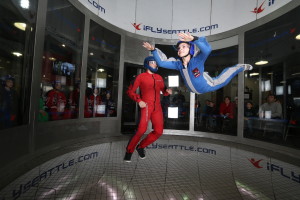 Have you heard of iFly? Basically they're wind tunnels that allow you to experience what it feels like to fly. Thanks to my dad, who thought this was something our family needed to do, we did–and found it so much fun, I'm sure we'll be back for more.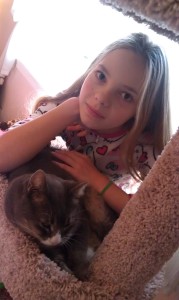 Lastly, for some time, our daughter has had her heart set on owning a cat, and this year for Christmas, she got her wish. This cat happens to be there very same stray kitty she fell in love with last summer while she was staying with my brother on the other side of the state as my husband and I traveled in Ireland. Very long story short, we were finally able to bring kitty home last month. Turns out there was good reason for my daughter's affection. We are all convinced this little guy (now named Pebbles) is the sweetest six-toed kitty ever (yes, seriously–it looks like he has thumbs), and he has completely undone our self-perceived identities as dog-people.
So that's it for me. What are you into these days?