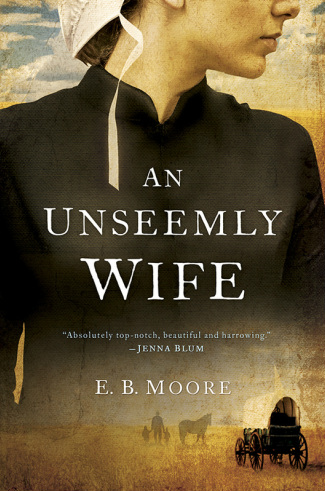 "Much as I love Aaron, and I do down to my very toes, I find myself resentful of being stampeded. This unwifely resentment so hard to admit even to myself…"
from 
An Unseemly Wife
 by
E.B. Moore
About this book: (from the publisher) 
Not all journeys come to an end…. 
1867. Ruth Holtz has more blessings than she can count—a loving husband, an abundant farm, beautiful children, and the warm embrace of the Amish community. Then, the English arrive, spreading incredible stories of free land in the West and inspiring her husband to dream of a new life in Idaho.
Breaking the rules of their Order, Ruth's husband packs up his pregnant wife and their four children and joins a wagon train heading west. Though Ruth is determined to keep separate from the English, as stricture demands, the harrowing journey soon compels her to accept help from two unlikely allies: Hortence, the preacher's wife, and the tomboyish, teasing Sadie.
But as these new friendships lead to betrayal, what started as a quest for a brighter future ends with Ruth making unthinkable sacrifices, risking faith and family, and transforming into a woman she never imagined she'd become….
About the author: (from her website) E. B. Moore grew up in a Pennsylvania fieldstone house on a Noah's ark farm.  The red barn stabled animals two-by-two, along with a herd of Cheviot sheep. After a career as a metal sculptor, she returned to writing poetry. Her chapbook of poems, New Eden, A Legacy, (Finishing Line Press, 2009) was the foundation for her novel, An Unseemly Wife both based on family stories from her Amish roots in Lancaster. E. B. received full fellowships to The Vermont Studio Center and Yaddo.  She is the mother of three, the grandmother of five, and lives in Cambridge, Massachusetts.
Genre: Fiction/Historical
If this book were a movie, I would rate it: PG
How I'd judge this cover: Perfect
Reminds me of… The Outcast by Jolina Petersheim 
Will especially appeal to… fans of unflinching historical fiction, especially that which depicts American pioneers of the nineteenth century.
Would I read another by this author? Yes. Though I didn't particularly *enjoy* this story, I admire this writer's incredible talent. The teaser she provides for her second novel makes it sound even more intriguing than the first. 
This story matters because it provides a hard look at  how easy it is for us to judge one another–and the great risk that lies therein.
My take: Don't be fooled by the cover. This is not your typical Amish novel. If you pick it up hoping for a nice, pat ending with the uplifting spiritual message found in most so-called Bonnet Fiction, you will be disappointed. If you hope to find a complicated, layered novel of beautiful prose and an unflinching examination of the human heart–well then. Let's talk.
While Ruth is as Plain a heroine as you might find, her feelings and relationships are anything but simple. Her very human-ness is what drew me into her story. That, and the aforementioned beautiful prose–it's hard not to admire this book simply because it's so well written. Nonetheless, it is on the whole a dark tale, at times so bleak I was sure I wouldn't find any hope in it. 
And yet–there is. True, the ending did drive me a little nuts, but I liked it. It's the sort of conclusion made for animated discussion among book club members.
Thanks to New American Library for providing me a free copy to review. All opinions are mine.
After words: Intrigued? Leave a comment for your chance to win a copy for yourself. Might be the next pick for your book club.