Award-winning writer and teacher Sally Allen knows that good books don't just draw us in; they talk to us, shape us, and transport us to times, places, and minds different from our own.
Unlocking Worlds: A Reading Companion for Book Lovers by Sally Allen
About this book: (from the publisher) In Unlocking Worlds: A Reading Companion for Book Lovers, Allen deftly weaves personal stories with fifteen thematized, annotated, and illustrated reading lists for what to read next. By sharing some of the treasures in her library and the secret lives they reveal, she gives us permission to embrace the shameless book lover inside each of us.
Unlocking Worlds is a testament to how reading passionately—and compassionately—can unlock the world beyond our back yard. Celebrating books and those who read them, Allen shows how the solitary act of reading can be a powerful thread that creates community and connection. Thought-provoking and eloquent, Unlocking Worlds: A Reading Companion for Book Lovers is a must-have for anyone who can't leave the house without a book in hand.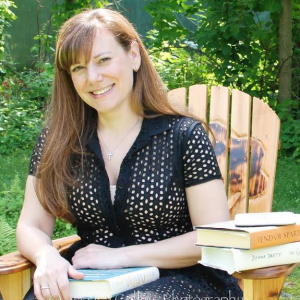 About the author: Sally Allen is an award-winning writer and teacher. She holds a Ph.D. from New York University in English Education, with an emphasis in writing and rhetoric, and a M.A. in English Language and Literature. The founder and editor of Books, Ink's at HamletHub, she leads book group discussions and teaches writing and communication.
About the illustrator: Ha Pham is a designer and illustrator. Since graduating from Hanoi University of Industrial Fine Arts in Vietnam, she has worked as a freelancer for authors around the world.
Genre: Non-fiction/Reference/Memoir (of sorts)
Why I said yes to this book: Somehow I think this one requires no explanation…
What difference did it make? Increased my understanding of myself as a reader; it also challenged and encouraged me to become a more adventurous, compassionate one–plus, it offered lots of great recommendations.
First Impressions: I love the way this little book feels in my hands, just the right size and weight–perfect for tucking into a handbag in anticipation of wait-times (which for me translates into snatched minutes of reading). And oh, the illustrations! Both on the cover and throughout. Beautiful. Truly a lovely add to the value of this book.
[Tweet "What do you give the book lover who has everything? THIS book! @SallyAllen @iReadBookTours #loveofreading #booksandreading"]
My musings: This little book changed me in ways I didn't expect. Always a reader, it reminded me of all the reasons I became an avid one and made me want to stretch for more. Interestingly, I've found that it's also changed me as a reviewer in that it points out–in the gentlest way possible–that criticism changes the critiquer most of all. It reminded me that there's always beauty in literature…a truth I could stand to remember more often.
But my biggest takeaway? That I've not read nearly prolifically or deeply enough.
From page one, I resonated with the author's personal touch, the way she wasn't afraid of injecting her own experiences and, natch, her own opinions. I appreciated the way she broke her chapters into themed sections. Of these, I was surprised by my interest in two in particular. No, make that three. The first two were Books That Explore University Life and Novels That Thrill, Chill, and Keep You Guessing. Of the former, I didn't realize there were 1) so many books to fit that description and 2) so many I would want to read. Of the latter, well, my interest in the genre came as no surprise (I practically cut my teeth on the novels of Agatha Christie and Mary Higgins Clark). I was surprised by the fact that there are so many of this ilk I had no knowledge of. But no longer!
The third and most welcome surprise came in the penultimate chapter–Reconciling with the Inevitable: We Can't Read All the Books. I thank the author for recognizing this painful truth, as well as its flip side: the fact that sometimes we need a tiny breather from reading. Especially after we've just gorged on a particularly satisfying read and are suffering from that overfull, restless feeling which leaves us unable to settle into a new book. Even more helpful was the way she addresses this uncomfortable phenomenon with practical suggestions to help readers move on. I found her advice a therapy, of sorts.
In another chapter, the author says, "Reading becomes…a form of witnessing. This role has felt significant to me as a way to reach across the chasm that separates my experiences from those of my relatives who survived hardships I have never known. Though I won't ever dare to claim to understand, viscerally, what they lived through, I can, at the very least, understand that I do not understand." (p.101) Though she's speaking here specifically about wartime novels, her observations apply just as well, I think, to any kind of book worth our while.
The author writes beautifully and articulately, and I enjoyed connecting with her on the pages of her book. Which would make a great stocking stuffer for anyone who cherishes books and reading, by the way. This little gem has found a spot on my forever-shelf, and I look forward to dipping into it again and again.
Thanks to iRead Book Tours for providing me a free copy to review. All opinions are mine.
After words: In the last pages of her book, Sally Allen mentions the Little Free Library movement, which is a great way to recycle books among book-loving folk. I'd heard of Little Free Libraries but have no first-hand experience with one. Do you? Maybe I'll have to see about setting one up in my own neighborhood…
Don't miss this chance to win a copy of Unlocking Worlds, here: a Rafflecopter giveaway

And finally, in case you're interested in seeing what other reviewers on this blog tour are saying…
Nov 16 – Corinne Rodrigues – review / author interview
Nov 16 – T's Stuff – book spotlight / guest post / giveaway
Nov 16 – Leigh Anderson Romance – review / author interview / giveaway
Nov 17 – The Bookish and the Romantic – review
Nov 17 – Griperang's Bookmarks – review / guest post / giveaway
Nov 18 – The Novel Life – review / guest post
Nov 19 – View From the Birdhouse – review / giveaway
Nov 20 – Laura's Reviews – review / guest post / giveaway
Nov 20 – Library of Clean Reads – review / giveaway
Nov 23 – Thistles and Whistles – review / author interview
Nov 23 – booklovercircumspect4 – book spotlight / guest post / giveaway
Nov 24 – Kinx's Book Nook – review / guest post
Nov 25 – #redhead.with.book – review / giveaway
Nov 26 – Readers' Muse – review / author interview
Nov 27 – Italophilia – review
Nov 30 – Satisfaction for Insatiable Readers – review
Dec 1 –   Worth Getting in Bed For – review / giveaway
Dec 2 –   Bound 4 Escape – review / giveaway
Dec 3 –   3 Partners in Shopping – book spotlight / guest post / giveaway
Dec 3 –   Keenly Kristen – review
Dec 4 –   Puddletown Reviews – book spotlight / author interview / giveaway
Dec 7 –   Sahar's Reviews – review
Dec 8 –   Jaquo Lifestyle Magazine – review
Dec 8 –   alwaysjoart – review / guest post / giveaway
Dec 9 –   Lovely Reads – review / guest post / giveaway
Dec 10 – Essentially Italian – review / author interview / giveaway
Dec 11 – misty103 @ HubPages – review / author interview
Dec 14 – Jaquo Lifestyle Magazine – guest post
Dec 16 – Story Matters – review / giveaway
Dec 16 – I'd Rather Be At the Beach – review / giveaway
Dec 17 – Tragically Dull Adventures of An Almost Librarian – review
Dec 18 – Jorie Loves a Story – review / guest post
Dec 18 – Create With Joy – review