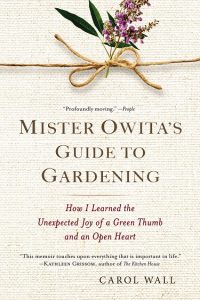 Happy Monday, friends! This encore post includes–yay!–a chance for you to win Carol Wall's heartwarming memoir. You won't want to miss this one. Seriously. Read on …
A true story of a unique friendship between two people who had nothing–and ultimately everything–in common.
Mr. Owita's Guide to Gardening: How I Learned the Unexpected Joy of a Green Thumb and an Open Heart by Carol Wall
About this book: (from the publisher) Carol Wall, a white woman living in a lily-white neighborhood in Middle America, was at a crossroads in her life. Her children were grown; she had successfully overcome illness; her beloved parents were getting older. One day she notices a dark-skinned African man tending her neighbor's yard. His name is Giles Owita. He bags groceries at the supermarket. He comes from Kenya. And he's very good at gardening.
 Before long Giles is transforming not only Carol's yard, but her life. Though they are seemingly quite different, a caring bond grows between them. But they both hold long-buried secrets that, when revealed, will cement their friendship forever.
About the author: (from her website) A graduate of Peabody College for Teachers at Vanderbilt University, Carol has taught high school English in both public and private schools in Tennessee and Virginia. Carol Wall's articles and essays centering on family life have been popular features in publications such as Southern Living Magazine and The Atlanta Journal-Constitution for more than twenty years. An accomplished public speaker, Carol served as Writer-in-Residence for Roanoke County Schools, where high school audiences learned to look forward to her entertaining and engaging presentations. She and her husband have three grown children, three granddaughters, and a grandson. They make their home in the Shenandoah Valley of Virginia. Carol has been battling Stage 4 breast cancer since 2008.
Genre: Non-fiction/Memoir
Judge this book by its cover? Is this memoir as warm and homey as it's cover implies? Yes.
Reminds me of… shades of Driving Miss Daisy
You'll want to buy this book if … you're eager to welcome spring and want a book that speaks as much to the head as to the heart. Will also appeal to gardeners and wannabes.
Why did I read this book? For Amy Einhorn Books for review.
Would I read another by this author? Absolutely. Reading Carol Wall's prose is like stirring honey with a warm spoon–effortless.
My take: Written with impressive humility, Mr. Owita's Guide to Gardening is a grace-filled story of friendship and forgiveness–and eternal truths found where we least expect them. It illuminated a couple of nooks and crannies in my own life that I didn't realize needed lighting, and opened up new possibilities in at least one relationship I've been struggling with.
One part of this story that really found purchase was the way Wall wove a bit of mystery into her narrative. It becomes clear fairly early on that despite his contagious joie de vivre, Giles and his wife hide a secret. Wall skillfully draws out the suspense, weaving this thread into darker reflections from her own past, until all is revealed at just the right moment.
Mr. Owita's Guide to Gardening is at once deeply personal yet extravagantly universal, with a twist of an ending I didn't see coming. All in all, a gem of a book–the perfect read for welcoming spring–both into our world and within our hearts.
Thanks to Amy Einhorn Books for providing me a free copy to review. All opinions are mine.
After words: Look familiar? It should. I reviewed Mr. Owita a year ago (and mentioned it again in my list of faves from 2014). Now it's out in paperback, and the publisher has generously offered a copy to one of my lucky readers. So leave a comment for your chance to win. It's the perfect memoir for spring–which (I'm banking on this) is just around the corner.
Which books (besides this one 🙂 ) are you looking forward to reading this spring?