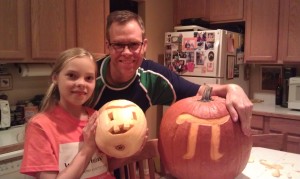 Sometimes it's all about the little things, you know?
I love fall for many reasons, but one of my favorite reasons has got to be the pumpkins.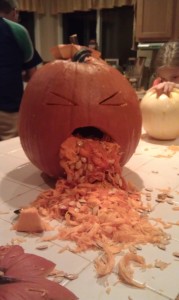 Pumpkin picking…pumpkin carving…
okay, maybe I'm not so much into the carving as I'm into watching my
family
carve. My job is to roast the seeds. My favorite recipe for these is as follows:
Roasted Pumpkin Seeds
Heat oven to 375.
Place pumpkin seeds (rinsed, de-gooped, and patted dry), in a thin layer on a greased baking sheet.
Sprinkle with onion powder, garlic salt, and paprika, to taste.
Roast 20 minutes or so, stirring once.
Then of course there's pumpkin eating. Imagine my delight when, during my most recent foray into Trader Joe's, I discovered that they are into pumpkin too! I went just a little bit crazy there, finally walking away with Pumpkin O's, Pumpkin Ravioli, Pumpkin-Butternut Pasta Sauce, Pumpkin Scones, Pumpkin Spice Cookie Butter, Pumpkin Spice Cream-Cheese Muffins, Pumpkin
Bread mix, and Pumpkin Spice Salted Caramels.
So yeah. I'm kinda into pumpkin these days.
I'm also into free books, even when my TBR pile reaches to the ceiling. If you can relate, you may want to know about this sweet deal from LifeVerse Books, where you can subscribe to learn about free (or almost free) inspirational fiction and non-fiction e-books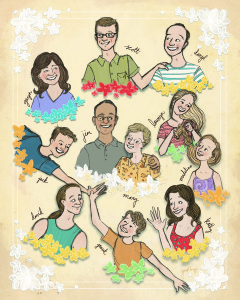 every day. Special thanks to Bev, fellow book-lover and Bible-study leader extraordinaire, for making sure I knew about it.
And then there's this whimsical family portrait, which we siblings gave my parents in celebration of their 50th anniversary. Isn't it fun? It's the inspired work of illustrator and storyteller Gracie Klumpp, whom you may remember meeting on my blog earlier this year. Working with Gracie was a complete joy. Her can-do attitude, not to mention the finished result, knocked our socks clean off.
So that's it for me. What are you into these days?