I'll begin with the truth, which is also a confession: this post is not what I intended.
As I tried to write, for the life of me I could not wrestle my ideas into any kind or order. Plus, my day was slipping sideways for a lot of reasons besides this contrary post. And since I've committed to keep this blogging gig a side interest and not a life-consuming one, I'm now resorting to good enough. So–apologies, my friends, that this one may lack a bit of spit and polish. And flow. Instead, you're getting a list of ten (which turns out to be eleven) just so I can get something published. So here 'tis. What I'm into this month:
My kids' schools, our PTSAs (thank you, moms!), spaghetti dinner fundraisers, choir concerts, band concerts, and bake sales. And can I just say that I love the fact that our schools still do bake sales? Makes me believe there's still such a thing as community. Because there is.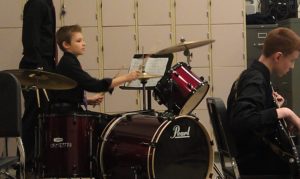 My boy playing drums. Whether he's rockin' out with the Sunday morning praise band or swingin' it with his middle school jazz band. Doesn't matter, I love it either way. Love him too, btw.
McFarland, USA. Best. Movie. Don't wait for this one to come to DVD. Seriously. First film I've seen since I-don't-know-when that I wanted to turn right back around and watch all over again.
Being Irish. Yes! It explains a lot, including my longstanding desire to visit Ireland, which will be fulfilled this summer. My husband and I recently got our DNA tested to learn more about our families' roots. Turns out we're both about quarter Irish. Who knew?
Menchie's. And as if their everyday awesomeness wasn't enough, today they're donating proceeds to help the victims of the Nepal earthquake. Yet another reason to love them.
[Tweet "Fri 5/1 participating Menchie's donating 10% sales @RedCross #NepalEarthquake victims"]
People who give generously. To those suffering in Nepal. And to children in need around the world. Last Sunday, I had the chance to speak to my church about World Vision's The Water Effect, helping bring clean water into communities that desperately need it. And to sponsor children, to help change how their stories will end. People responded. To those who did, have, and are–thank you.
[Tweet "Help change how the story ends. Just add water. #WaterEffect @WorldVision"]
So that's it for me. What are you into these days?