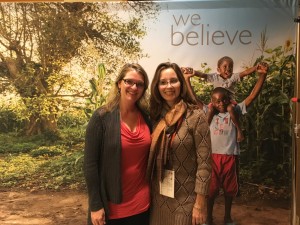 "When I was a boy," iconic Fred Rogers once said, "and I would see scary things in the news, my mother would say to me, 'Look for the helpers. You will always find people who are helping.'" Wise words to remember these days when we are seeing so very many scary things. Look for the helpers.
About a month ago, my good friend Anne and I attended the annual World Vision conference in Seattle. World Vision is one of those helpers we are to look for. At the conference, I was challenged, inspired, and encouraged after hearing great stories told by dynamic speakers such as Eugene Cho (author of Overrated: Are We More in Love With the Idea of Changing the World Than Actually Changing the World? Um, yeah. I'll be blogging more on that one in the new year.), Brenda Salter McNeil (author of Roadmap to Reconciliation: Moving Communities to Unity, Wholeness, and Justice), and Rich Stearns (author of A Hole in Our Gospel and World Vision president).
Rich shared with us the good news/bad news report. The good news is that extreme poverty is retreating in a big way. But where it's bad, it's getting worse and retreating into the Fragile States–those places in the world where it's far more difficult and dangerous to help. Think Haiti, Syria, Afghanistan, South Sudan. Accordingly, World Vision has chosen for its 2015-16 theme "Stepping Into the Margins: Dare to Believe. Then Act."
Being among all these helpers reminded me all over again why I'm so into child sponsorship. Friends, it changes lives, it really does. It transforms the lives not only of the individual children we sponsor, but the people in their communities–and yes, us, as well. It seems especially appropriate to bring this up today, #GivingTuesday. If you feel so led, please consider sponsoring a child today. You can visit my sponsorship page to learn more and choose a child to sponsor. There are so many ways to make your choice personal
. In our family, one of the girls we sponsor shares an exact birthday with our daughter. Another girl lives in a country (Bolivia) we hope to visit someday.
Or, if you're looking for other tangible ways to give, there's the World Vision Gift Catalog. I love this option. We've been giving gifts to friends and family out of this catalog for years, and it's part of our Christmas tradition to allow each of our kids to choose some living thing to donate to a community in need (a goat and a handful of chicks tends to be a favorite). Another idea that seems particularly popular is to give the gift of education to a child in honor of someone you know. We've given these as "gifts" to our kids' teachers for the last few years, and they seem to appreciate the gesture more than another gift card or candle for themselves (though I know these are welcome too–everyone likes to feel appreciated!). By the way, any gift given to World Vision today, #GivingTuesday, will be matched with a donation of product from Thirty-One Gifts.*
*up to $1,000,000.
[Tweet "What I'm Into ~ December edition. #GivingTuesday #Advent @WorldVision @WVUSAdvocacy"]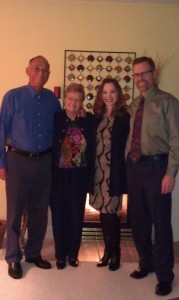 In other news…2015 for our family was the year for big numbers and big celebrations. To wit, my mom-in-law turned 70, my husband's baby sister turned 35, his big sister 50, both our brothers 45, our first niece 18. Scott and I celebrated our 25th anniversary, my parents their 50th. And last month, my own dear mom turned 80. Here we are, my parents, husband, and I, before dining out at the Copperleaf Restaurant. (If you live in the Seattle area, highly recommended…especially their 5-course tasting dinner. Yes.) You'd never guess Mom to be an octogenarian, would you?
I'm also, btw, rather into my husband's hirsute look, which he gets into annually as part of the Movember movement.
Finally, as if it needs saying, I'm very into Advent. I've got two new Advent books (as recommended by blogger Addie Zierman–check out her deeply personal and powerful piece on Advent here). And our home's halls are decked, thanks to help from my eager daughter. I particularly love this rendition of Little Drummer Boy by the Pentatonix, and for some obscure reason, this now-famous flash-mob scene of the Hallelujah Chorus always makes me teary. This year, our anticipation of Advent seems particularly heightened, doesn't it? Perhaps it's because our hurting world seems so very lost in darkness, deepening our longing for the coming of the Light. I'm so ready to just dwell here in the stories and carols and candles of Advent–in hope, in longing, in anticipation.
Come, Lord Jesus. Emmanuel, God with us. Come.
So that's it for me. What are you into these days?