How can anyone not be into spring?
 Personally, I love the gradually warming weather that allows my daily uniform of leggings, boots and sweaters to make way for capris, flats and–well,
lighter
sweaters. (This is the Pacific Northwest, after all.) Indoors, I'm celebrating with citrus-scented candles and 
Rainy Day Garden
 handcrafted soaps. (LOVE. The gifted owner is local–Vashon Island–but she ships anywhere and offers outstanding customer service. Tip: they make for great hostess or housewarming gifts.) I am also loving the way my fellow bloggers are welcoming the season, from Books & Beverages'
spring-time drinks
 to Kerry Ann Morgan's
DIY floral decor
.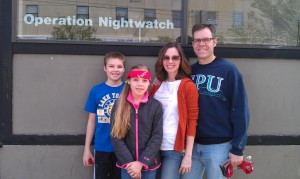 What else am I into? Whitworth University. Though this May will mark a quarter-century (I know, right?) since I last walked its beautiful campus as a student, my alma mater remains one of the most positive influences in my life. From writing skills to eternal relationships to making a lasting difference in the world, Whitworth taught me so much about what really matters. And last Saturday on #WhitworthServes Day, when hundreds of alums gathered in cities all up and down the West Coast, my family and I zipped up to Seattle to join others helping out at Operation Nightwatch, where we cleaned and painted and gardened. I can hardly think of a better way to spend a sunny spring Saturday morning.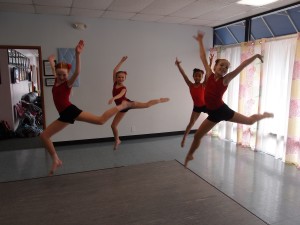 Thanks to my daughter, I am also totally into dance. Not me dancing–I hasten to point out–but Madeline and her friends. At her dance academy, from January through March the students pour everything they've got into preparing for dance exams, which just wrapped last week. Here you can see Madeline (far right) and her three BFFs jumping for joy as they concluded their last exam. And now with the stress behind, the fun begins as, for the remainder of the school year, they take all they've learned and transform it into one big, blow-out show in June. It's Snow White this year and it's not to be missed, I'm telling you.
Every Lenten season since it premiered two years ago, I look forward to the hours I
spend with my family watching The Bible, which captures the essence of God's story from creation to Revelation. (It's possible I may like its soundtrack even more, but I'm into that year-round, so maybe that doesn't count.) In these weeks leading up to Easter, our family finds it a great way to generate discussion, and to remind ourselves of the ways that we continue to be a part of God's story.  All of which is to say, I am very into Jesus, whose sacrifice and resurrection we celebrate this weekend, and who, because He lives, makes every good thing possible. 
Happy Easter, friends.
So that's it for me. What are you into this spring?