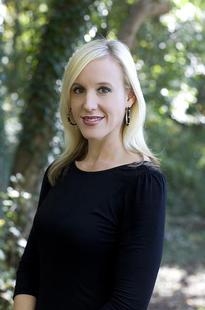 We tend to seek out community when confronted with struggles larger than ourselves. It's human, after all, to want to gain inspiration and encouragement from each other's trials and triumphs. We find strength in numbers. There's something especially powerful, I think, when we discover that the community we seek begins in the distant past. When we look behind to an era long ago to see that neither our struggles nor our successes are unique to our time.
This was my particular surprise and delight when I read Sophia Peabody's story. Who is Sophia Peabody? In her day she was mainly known as the wife of American novelist Nathaniel Hawthorne, but she also was — is — a woman worth knowing in her own right. Author Erika Robuck has brought this fascinating woman to life in her most recent historical novel, The House of Hawthorne. 
Erika is the national  bestselling author of Fallen Beauty, Call Me Zelda, Hemingway's Girl, and Receive Me Falling. She is a contributor to the fiction blog Writer Unboxed, and she maintains her own blog, Muse. She is a member of the Hawthorne Society, the Hemingway Society, the Historical Novel Society, and the Edna St. Vincent Millay Society. She lives in Annapolis, Maryland, with her husband and three sons.
Today I'm delighted to be chatting with Erika about her novel, the gift of words, and the precarious balance that creative moms must achieve. 
KJ: Erika, welcome! Thank you for taking the time to visit us at Your Story Matters.
ER: I'm happy to be here! Thank you for hosting.
KJ: In The House of Hawthorne, you have fictionalized the marriage of Sophia Peabody to 19th-century American novelist Nathaniel Hawthorne. Until they read your novel, most readers won't know that Nathaniel wasn't the only creative in the Hawthorne family. Sophia herself was an artist—a painter and an illustrator—as well as a published writer. You vividly portray the tension she felt as she tried to simultaneously balance her responsibilities to her family and to her art. That's a theme to which today's creative moms can easily relate. What does this tell you?
ER: It tells me that struggles of society and family are timeless. In Hawthorne's preface to The House of the Seven Gables, he defines his novel as a romance, and says further:
"The point of view in which this tale comes under the Romantic definition lies in the attempt to connect a bygone time with the very present that is flitting away from us."
One of the reasons I write historical fiction is to show we are all connected across time and space. It comforts me as I struggle for balance in my own life.
[Tweet "Sophia Peabody, a woman worth knowing, then and now. #TheHouseofHawthorne @ErikaRobuck"]
KJ: Nathaniel Hawthorne had his demons, and he wrestled mightily with his gift for penning words. As a writer yourself, what is your take-away from his struggle?
ER: My takeaway is that I must enjoy the process, celebrate small successes, and not allow creative failures to consume me. For many creative people, there is a temptation toward isolation, but it is living in society that fuels the creative spirit. No man or woman should be an island.
KJ: I think my favorite part of the whole book is its triumphant ending. If Sophia could read it, how do you think she'd feel about the way you ended her story?
ER: I have great affection for the Hawthornes, and Sophia's approval would mean the world to me. I hope she would be glad that readers could finally get insight into her husband and her marriage. I also hope she would be honored for the world to know how she influenced Hawthorne's work, how she held her family together, and that she, herself, was such a talented artist.
KJ: We are a community of women who believe in the power of story to make a world of difference. I felt particularly drawn to Sophia's story as I saw how she struggled with the question of how she might make a difference as she witnessed the social injustices of her day (which are not so very unlike our own). What did you learn from her struggle?
ER: Yes, the struggles are, again, timeless. From Sophia's and Nathaniel's marriage, I learned that keeping a happy home is foundational to a happy society. However, the tendency toward isolation and not taking a stand can be problematic. We have to find ways to positively influence those in our "spheres" so the effects may ripple outward, widely.
KJ: As a both a Christian and a word-girl, I found particular beauty and power in these lines from your novel:
"In that most holy book, it says, 'In the beginning was the Word, and the Word was with God, and the Word was God.' Words are the bridge to the Eternal. They hold the power in the cosmos to conjure, transport, condemn, unite, destroy."
What does this mean to you, and what might it mean for any woman who chooses to take these words to heart?
ER: I put these words into Sophia's mouth to give her redemption and the chance she never had to speak boldly for herself and her family. I believe these words with all my heart, and take my work as a writer very seriously. Stories change those who read them. Writers need to be aware of that power, trust that power, and use their work to make a positive difference in the world.
KJ: Thank you, Erika! It's been a delight. 
About The House of Hawthorne: (from the publisher) As a sensitive, artistic young woman, Sophia Peabody is
discouraged from pursuing a woman's traditional roles of marriage and motherhood. But from their first meeting, she and Nathaniel Hawthorne begin an intense romantic partnership. Together, they cross continents, raise children, and experience all the beauty and tragedy of life fully lived. Sophia's vivid journals and masterful paintings inspire Nathaniel's writing. But their children's needs and personal losses fuel a perennial tug-of-war between Sophia's domestic duties and her own desires.
Spanning the years from the 1830s to the Civil War, and moving from Massachusetts to England, Portugal, and Italy, The House of Hawthorne explores the story of a woman, forgotten by history, who inspired one of the greatest writers of American literature…
After words: Is there a creative mom/classical literature-lover/histfic fan on your Christmas list who would find inspiration in Sophia Peabody's story?