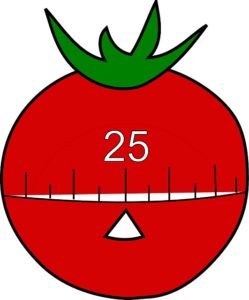 As a devoted wife, dedicated mom, friendly friend, committed volunteer, writer of fiction and blogger of books, one of my biggest challenges is managing my time well. From what I hear from you, it's your challenge too.
One of the best tricks I've found is the Pomodoro Technique. Perhaps you've heard of it. It's trademarked, and the official method is documented here. I first learned of it from writer Mary DeMuth, who blogs about it here.
You can read about it in detail on either of those sites, but here's the deal in summary:
Step 1: Start with a timer. An ordinary kitchen timer works perfectly. Since most of my time management issues are linked to my laptop, I use an online timer like this one. The Pomodoro people market one shaped like a tomato (pomodoro is Italian for tomato).
Step 2: Inventory your day. Determine your goals and break them into pieces that you think you can accomplish in 25 minutes. Some tasks will take several of these chunks.
Step 3: Set your timer for 25 and begin. Do your task, concentrating solely on it. When the timer goes off, STAND UP, walk away, take a break, do something else for 5 minutes. This is a critically important step. Taking that little break actually aids the productivity flow. I am often tempted to skip this step if I find myself on a roll. When the timer goes off, I'll want to keep right on going. But I have found that if I actually force myself to get up and go fold a basket of laundry, or tidy the kitchen quickly, or start dinner preparations, my mind keeps working so that when I sit down at my task again, I'm refueled with fresh creativity.
Step 4. Return to your work for another 25 minute chunk.
And so on.
After four of these 25/5 minute cycles, take a one-hour break. This is usually my lunch break, and I'll usually also add some kind of chore that requires more than 5 minutes to accomplish.
And so on again.
The trick is maintaining the discipline to stick to prescribed routine. I succeed at this some times better than others, but when I do, my productivity increases.
I'm using it right now, to write this post. See how beautifully it's working?
This week, why not give it a try? And then be sure to stop by again and let me know how it went. 
Also, in case you missed it, I had the privilege of guest posting earlier this week on Jenny Miller's blog. Check it out… 🙂