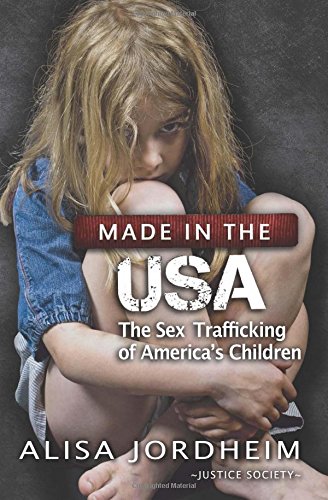 Friends, here's round two of our discussion this month about the tough topic of sex trafficking–important because as I noted before, it is rampant, it is evil, and children we know and love are at risk. January is national Human Trafficking Awareness month, and today I am privileged to introduce to you Alisa Jordheim, Executive Director of Justice Society and author of Made in the USA: The Sex Trafficking of America's Children.
About this book: (from the publisher) Made in the USA: The Sex Trafficking of America's Children is a compilation of five true stories of adults (4 woman & 1 man) trafficked as children. Each story is preceded by an overview of the type of trafficking the story addresses and followed up by a statement from the survivors themselves.  The purpose of the book is to provide insights on how American children are taken captive and often coerced to remain in a lifestyle of commercial sexual exploitation.  All profits from the book will be distributed to nationally recognized agencies providing either preventive or restorative service for child survivors of Domestic Minor Sex Trafficking.
Alisa, welcome. Please tell my readers a bit about yourself: your background, interests, family, and where you live. Also, how did you become involved in the anti-trafficking movement?
I was born and raised in North California, lived all over the U.S. and currently reside in the Dallas area. I love the out-of-doors, travel, and any kind of new adventure or food. I became involved in the movement in 2006, through an unusual experience.  During a solitary walk while on vacation I had two visions. The first was of slaves in the bottom of a ship and then the image switched to that of a young girl tied to a bed.  Both visions were fleeting and very unexpected.  The subject of human trafficking was not on the public radar, so I wasn't familiar with the issue and certainly didn't know what to do with the visions.  I occasionally pondered the visions and about a year later felt it was time to take action regarding them.  My first step was to study the subject of human trafficking and find an organization to volunteer with.  The volunteer opportunity led me to facilitate the development of a safe-home for sex-trafficked minors.
One of your main purposes in writing Made in the USA was to spotlight the proliferation of human trafficking right here—in our country, in our towns, in our very neighborhoods. How do audiences generally react to this truth revealed?
Some folks are reluctant to believe it is an issue, while the majority are intrigued at first and then horrified and/or angered when they hear the stories.   Having personal experience working with survivors allows me to share (selectively, due to confidentiality) some of what I have experienced first-hand. This allows me to answer questions from a "first hand" perspective.
In writing Made in the USA, you enlisted several writers who each told a different survivor's story. Why did you choose this method instead of writing it all yourself?
I believe stories told in the first person draw a reader in a profoundly personal way, which was important to keep the reader committed to finishing out these tough personal accounts. That said — just how does the same person write five stories in the first person and give each one its own personal flavor?  That was the dilemma, and I'm just not that good a writer. The solution was to solicit five young writers that I personally knew and trusted to join me on the journey.
[Tweet "Exposing sex trafficking here at home: Made in the USA by @AlisaJordheim @JusticeSoc"]
I have to be honest: Made in the USA is perhaps the hardest book I've ever read. I heeded the advice you offer in your introductory chapters and took breaks between chapters, and still it was tough. You pulled no punches in telling the brutal truth. Why was this necessary?
Yes ma'am. Imagine what it was like for us as a team to write it. 🙂
There are a number of movies that depict a small segment of experiences that trafficking survivors endure. While these movies are entertaining, they do not give an accurate picture of the experiences of most trafficked children in the U.S..  The intention of Made In the USA is to de-glamorize the issue of sex trafficking and provide an accurate and thorough picture for those interested in providing preventive or restorative care for trafficked children. I will say, for those called, it is soooo worth it!
Made in the USA focuses on the supply—or victim—side of the human trafficking equation, exposing the problem, identifying those who are most vulnerable, and preventing future cases. What about the demand side, the men who buy sex. What do you say about that?
Not much at this stage, as I really haven't done much research on the subject.  I do, however, believe our hyper-sexualized culture is as much an influence on buyers as it is on the children being lured.
I'm thankful for Part III of your book, in which you offer hope for how ordinary people can help put a stop to this heinous industry. For my blog readers, what is one action they can take today to make a difference?
1) Share the post. While a pat answer, it is probably the most effective action to bring awareness on the issue. 2) For those with teenage children (especially daughters) speak openly about the issue and make them aware in a way appropriate for your family dynamic.
Thank you so much, Alisa, for sharing your passion for justice. May you be strengthened as you serve out the Justice Society mission: Hate Evil. Love Good. Do Justice. It's been a privilege to host you here today.
After words: Friends, want to make a difference? Read Made in the USA. Listen to these two 30-minute Focus on the Family podcasts, Human Trafficking: What You Need to Know. If you live in Washington state, check out Washington Engage and sign the Not In My City declaration against human trafficking. If you live in the Seattle area, you can attend the educational forum March 9, 6:30p.m. at the Kent Senior Activity Center to learn how cultural grooming creates vulnerabilities for trafficking. (I plan to be there, so be sure to say hi.) I also encourage you to connect with Alisa online via Justice Society to stay up to date.
Finally, I'd like to hear from you. How do you think ordinary people like you and I can help to end this scourge?