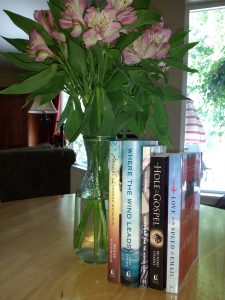 If you're wired anything like me, one of the most effective ways to learn about sometimes-uncomfortable truths is through story. That's because story has a way of bypassing our intellect and shooting straight for the heart, where compassion and empathy have a chance to take root.
That's one of the reasons I value thoughtful memoirs that speak honestly about real world issues.  Here are five that have come my way recently, their settings ranging across virtually every continent and dealing with topics as diverse as poverty, oppression of women, the plight of the refugee and orphan, and helping people in need. All have served to expand my world. 
Monique and the Mango Rains: Two Years with a Midwife in Mali by Kris Holloway (from the publisher): What is it like to live and work in a remote corner of the world and befriend a courageous midwife who breaks traditional roles? Monique and the Mango Rains: Two Years with a Mali Midwife is the inspiring story of Monique Dembele, an accidental midwife who became a legend, and Kris Holloway, the young Peace Corps volunteer who became her closest confidante. In a small village in Mali, West Africa, Monique saved lives and dispensed hope every day in a place where childbirth is a life-and-death matter and where many children are buried before they cut a tooth. Kris worked side-by-side with her as they cared for each other through sickness and tragedy and shared their innermost secrets and hopes.
Monique's life was representative of many women in one of the world's poorest nations, yet she faced her challenges in extraordinary ways. Despite her fiercely traditional society and her limited education she fought for her beliefs birth control, the end of female genital mutilation, the right to receive a salary, and the right to educate her daughters. And she struggled to be with the man she loved. Her story is one of tragedy joy, rebellion, and of an ancient culture in the midst of change. It is an uplifting tribute to indomitable spirits everywhere.
Monique and the Mango Rains is a fascinating voyage to an unforgettable place, a voyage spent close to the ground, immersed in village life, learning first-hand the rhythms of this world. From witnessing her first village birth to the night of Monique's own tragic death, Kris draws on her first-person experiences in Mali, her graduate studies in maternal and child health, medical and clinic records, letters and journals, as well as conversations with Monique, her family, friends and colleagues, to gives readers a unique view and a friend in West Africa.
Miracle on VooDoo Mountain by Megan Boudreaux (from the publisher). Miracle on Voodoo Mountain is the inspirational memoir of an accomplished and driven 24-year old who quit her job, sold everything, and moved to Haiti, by herself―all without a clear plan of action. Megan Boudreaux had visited Haiti on a few humanitarian trips but each trip multiplied the sense that someone needed to address the devastation―especially with the children, many of whom were kept as household slaves on the poverty-stricken and earthquake-devastated Caribbean island.
God guided her every step as she moved blindly to a foreign land without knowing the language, the people, or the future. From becoming the adoptive mother of former child slaves, to receiving the divine gift of the Haitian Creole language, to starting, building, and running a school for more than 500 children, "the amazingness of what God did after I made the choice to be obedient is incredible," said Megan.
Three years later, six acres on Bellevue Mountain in Gressier is the home of the nonprofit Respire Haiti at the former site of voodoo worship, and in the area that many still come to make animal sacrifices, Megan and her staff of nearly 200 are transforming this community as they educate, feed, and address the needs.
Love at the Speed of Email
 by Lisa McKay (from the publisher): Lisa looks as if she has it made. She has turned her nomadic childhood and forensic psychology training into a successful career as a stress management trainer for humanitarian aid workers. She lives in Los Angeles, travels the world, and her first novel has just been published to some acclaim. But as she turns 31, Lisa realizes that she is still single, constantly on airplanes, and increasingly wondering where home is and what it really means to commit to a person, place, or career. When an intriguing stranger living on the other side of the world emails her out of the blue, she must decide whether she will risk trying to answer those questions. Her decision will change her life.
The Hole in Our Gospel: What Does God Expect of Us? The Answer That Changed My Life and Might Just Change the World by Richard Stearns (from the publisher): What does God expect of us? Is our faith just about going to church, studying the Bible and avoiding the most serious sins―or does God expect more?
Have we embraced the whole gospel or a gospel with a hole in it?
Ten years ago, Rich Stearns came face-to-face with that question as he sat in a mud hut in Rakai, Uganda, listening to the heartbreaking story of an orphaned child. Stearns' journey there took much more than a long flight to Africa. It took answering God's call on his life, a call that tore him out of his corner office at one of America's most prestigious corporations―to walk with the poorest of the poor in our world.
The Hole in Our Gospel is the compelling true story of a corporate CEO who setaside worldly success for something far more significant, and discovered the full power of the gospel of Jesus Christ to change his own life. He uses his journey to demonstrate how the gospel―the whole gospel―was always meant  to be a world changing social revolution, a revolution that begins with us.
Where the Wind Leads: A Refugee Family's Miraculous Story of Loss, Rescue, and Redemption by Vinh Chung (from the publisher): Vinh Chung was born in South Vietnam, just eight months after it fell to the communists in 1975. His family was wealthy, controlling a rice-milling empire worth millions; but within months of the communist takeover, the Chungs lost everything and were reduced to abject poverty. Knowing that their children would have no future under the new government, the Chungs decided to flee the country. In 1979, they joined the legendary "boat people" and sailed into the South China Sea, despite knowing that an estimated two hundred thousand of their countrymen had already perished at the hands of brutal pirates and violent seas.
Where the Wind Leads follows Vinh Chung and his family on their desperate journey from pre-war Vietnam, through pirate attacks on a lawless sea, to a miraculous rescue and a new home in the unlikely town of Fort Smith, Arkansas. There Vinh struggled against poverty, discrimination, and a bewildering language barrier—yet still managed to graduate from Harvard Medical School. Where the Wind Leads is Vinh's tribute to the courage and sacrifice of his parents, a testimony to his family's faith, and a reminder to people everywhere that the American dream, while still possible, carries with it a greater responsibility.
After words: Have you read any of these? Would you add any to my list?