I first "met" today's guest about a year ago when her publicist told me he'd be sending  me her new book, Reclaiming Home, to read for my blog. He predicted that I'd find Krista Gilbert to be "up my alley."
Well, he nailed it, and for that, I will be forever grateful.
One of the things I so appreciate about Krista is her belief that being a difference-maker begins at home. That's what her book, and much of her ministry, is all about.
She spells it out like this: "We impact those we raise, and the ripples reach far beyond our grasp, stretching into generations. We are the most important leaders, our influence setting our families on a course for good. The daily actions that seem so small, add up to mountains of deposits that build the very foundation on which children stand forever. We live by the truth that roots go deep when love is strong…. Let's change the world by impacting our homes."
Start at home, Krista says. But don't let it end there. Because those ripples that reach far beyond our grasp? They can make a world of difference.
That's what she discovered earlier this spring when she climbed Africa's most famous mountain, Kilimanjaro, to help make a world of difference for countless women and children. And when I read about it (or at least, this small part of it), I knew then and there I had to share her simple yet profound wisdom with you.
Read on…
Do Something ~ by Krista Gilbert
I've been back from Africa for 1 week and 3 days and I feel like I am still unraveling my experiences piece by piece.  I find myself bursting into tears cutting carrots, or mindlessly eating ice cream, trying to make sense of what I saw (as if that will help)!
For those of you who don't know, I went to the Democratic Republic of Congo (DRC) and then climbed Mt. Kilimanjaro with  One Million Thumbprints.
People keep asking me if I had a good trip.  Yes, but I think good doesn't quite fit – that's the wrong word. Eye-opening, yes.  Moving, yes.  Spiritual and life-changing – for sure.
One of the reasons it is so difficult to explain is because life for women in the DRC (and Syria and South Sudan) doesn't even have a box in our brains.  It's so starkly different we have a hard time comprehending their reality.  And once it is seen and even some-what understood, how does a person take a problem so weighty and gigantic and feel empowered to make a difference at all?
I find that there are no easy answers to that question… in the least.
But I do find one possible answer from the words of Mother Teresa.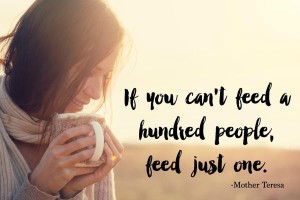 We don't do anyone any good when we heap guilt on ourselves, or are paralyzed by the scale of a problem.   So I keep coming back to this:  do something.   SOMETHING.  For someone.  That is the place to start.
[Tweet ""Do something…for someone. That is the place to start." @KristaTGilbert"]
We can do that.  We can wrap our brains around that idea.
The other day at church one of our pastors said, "Jesus frequently found himself with the crowd, but always focused on the one."  It's so true.  And what a great place for us to begin as well.
Whether we are with people in Africa, in a group with friends, or sitting around a table with our family on Easter, focus on the ONE.  Let's give that person the honor of our undivided attention or help.
That is making a difference.  That is making our time and resources count.
About Krista: Krista Gilbert, author of Reclaiming Home: The Family's Guide for Life, Love, and Legacy and co-host of the Open Door retreat, is also an author, blogger, and speaker who lives in the mountains of Idaho with her husband, Erik, and their four children. Passionate about bringing meaning and fun to the table, she inspires others to live their lives on purpose–encouraging deep roots of connection, faith, love, and grace. When she isn't blogging at kristagilbert.com, or daring families at meaninginaminute.com, you will find her dancing around the kitchen cooking, laughing wholeheartedly, or racing her kids down a ski run.
To read more about Krista's journey up Mt. Kilimanjaro and back, click here and here.
After words: What's your story about how you've done something…one thing…to make a world of difference? It could be foregoing a planned errand to stop and really listen to someone who needed your ear. It could be making a monthly donation so that a child in Cambodia may thrive. It could be…well, you tell me. Whatever it is, I'd like to hear it!