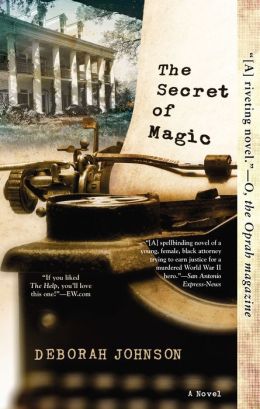 A young female attorney from New York City attempts the impossible in 1946: attaining justice for a black man in the Deep South.
The Secret of Magic by Deborah Johnson
About this book: (from the publisher) Regina Robichard works for Thurgood Marshall, who receives an unusual letter asking the NAACP to investigate the murder of a returning black war hero. It is signed by M. P. Calhoun, the most reclusive author in the country.
As a child, Regina was captivated by Calhoun's The Secret of Magic, a novel in which white and black children played together in a magical forest. The book was a sensation, featured on the cover of Time magazine, and banned more than any other book in the South. And then M.P. Calhoun disappeared.
With Thurgood's permission, Regina heads down to Mississippi to find Calhoun and investigate the case. But as she navigates the muddy waters of racism, relationships, and her own tragic past, she finds that nothing in the South is as it seems.
About the author: (from her website) Deborah Johnson was born below the Mason-Dixon Line, in Missouri, but grew up in Omaha, Nebraska.
After college, she lived in San Francisco and then for many years in Rome, Italy where she worked as a translator and editor of doctoral theses and at Vatican Radio.
Deborah Johnson is the author of The Air Between Us, which received the Mississippi Library Association Award for fiction. She now lives in Columbus, Mississippi, and is working on her next novel.
Genre: Fiction/Historical fiction
If this book were a movie, I would rate it: 99% PG, 1% R for contextually appropriate profanity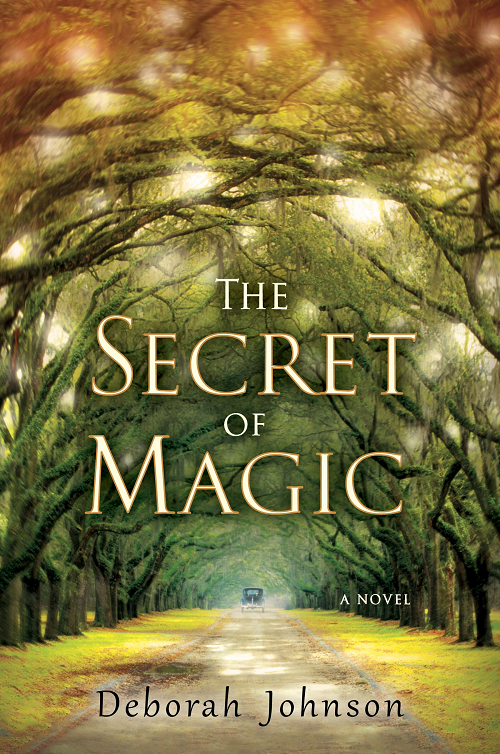 How I'd judge this cover: Though quite different, both the paperback cover (above) and the original hardback version (here) do a great job of portraying tone and hinting at content–two different slices from the same pie.
Reminds me of… Calling Me Home by Julie Kibler
Will especially appeal to…fans of The Help by Kathryn Stockett
Would I read another by this author? Yes.
This story matters because… it illuminates how truly desperate the U.S. race divide once was, providing both a cautionary tale–lest we forget–and incentive for continuing to strive toward complete equality.
My take: If you enjoy novels that provide a glimpse into both the best and the worst of the human heart–and of United States history–you'll appreciate this one. Deborah Johnson wields a skillful pen in shaping this true-to-life story of racial tension, featuring the actual historical figure of Thurgood Marshall, the first African-American justice on the U.S. Supreme Court.
Of the characters drawn from imagination, Johnson gives us an easy, winsome heroine to latch onto in Regina "Reggie" Robichard. I also particularly liked Mary Pickett for her complexity. In these women–as well as other well-defined characters such as Willie Willie–Johnson displays a deep, compassionate understanding of the human heart.
As is appropriate for both the setting and the subject, the story unspools at a languid pace–perhaps just a shade too slowly for my taste. While this allows for the in-depth exploration of the many issues of law and relationships, there were times I wanted things to happen a little more quickly.
[Tweet "If you liked THE HELP, don't miss this complex, nuanced tale. THE SECRET OF MAGIC by Deborah Johnson."]
Perhaps what impressed me most about this novel was the way the author managed to imbue both an appropriate gravitas while at the same time maintaining a light touch on a weighty topic. Her prose is layered and nuanced and provides a fascinating look into a pivotal time in our history–with lessons that are equally relevant today.
Thanks to Berkley Trade for providing me a free copy to review. All opinions are mine.
After words: Did you read THE HELP or CALLING ME HOME? If so, based on how it was portrayed in these books, how do you think racial tension is different today than it was in the first half of the last century? How does it remain the same?