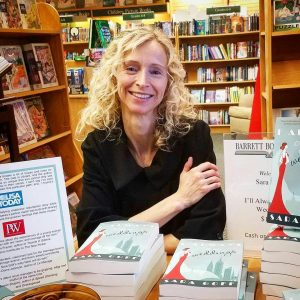 Author and speaker Sara Goff dreams of making a difference in the world. She left a career in NYC fashion design to establish the global education charity Lift the Lid, Inc., which supports underprivileged schools in Kenya and elsewhere. Lift the Lid, Inc. encourages young people to exercise their creative expression through writing. Sara is passionate about sharing what she knows about the writing process and the transformative power of the written word. 
Sara, welcome! What events inspired you to establish Lift the Lid, Inc.?
My father passed away in 2000 from pancreatic cancer, and one prominent memory I have of his life is how he would sponsor children in need through Catholic Charities. My specific role in his outreach was writing to the children, and many wrote back, which was always a thrill for me. That experience became the foundation for Lift the Lid, the nonprofit I started in 2010 to improve the education of underfunded schools, while encouraging the students to write.
Why Kenya? I spent three weeks in Nairobi with a group of international writers through Summer Literary Seminars, and in that time I got to know a local family that wanted to start a school in their rural town 42 km from the capital city. Namelok Junior Academy began under a tree with minimal funds and a dream. Now, with Lift the Lid's help, they have five classrooms and a small kitchen for 88 students.
Most importantly, Lift the Lid encourages the children to write. For every donation of $24 or more, a student writes a poem or personal essay, which is scanned and shared with the donor, as well as published on our website at www.lift-the-lid.org. The students feel proud to see their work published, and when a donor leaves a positive comment, they feel even more connected to the world and motivated to work harder. Reading their essays, I feel the same way: proud, connected, and motivated to work harder. Thank you, Dad, for encouraging me to write when I was young, I'm glad I can pass that on to so many other children!
Lift the Lid has a unique focus, working with students to explore self-expression through writing. Why is this so important?
When children love to read, they are never bored, never alone, and never without the potential to learn about our world. When they find the courage and insight to write from their hearts, they walk taller, speak with authority, reflect with sincerity, and have more compassion for others.
Writing offers an escape, but it also allows us to understand ourselves better. It's important to me that all children have the privilege of learning how to channel their hardships, their dreams, their whimsies into writing. That's why I founded Lift the Lid, Inc.
How do literacy and a mastery of writing have the potential to change the world for good?
I feel strongly that literacy and writing go hand in hand. Words, written and spoken, are tools for gaining knowledge and mastering communication. They are what we use to express our uniqueness, our immediate needs, and our future goals. I believe if everyone had a confident handle on these powerful tools—writing and literacy—we could significantly lower unemployment, boredom, loneliness, depression, crime, and poverty.
Along with Lift the Lid's annual writing competitions, we make yearly book donations in an ongoing effort to build/expand the libraries of the schools we support. Finally, since we began, we've published over 100 students' personal essays and 44 students' poems, which add up to a lot of reflection, expression, and believing in oneself!
As a writer and a philanthropist, what does it mean for you to celebrate beauty amidst the brokenness?
We are each a vibrant mosaic of feelings and experiences, like the shards of stained glass that make cathedrals splendid, even awe-inspiring. When we write about our lives and how we relate to the world, our words reveal the intensity of our colors.
In writing about our experiences, we find meaning and purpose within those broken pieces. Our words acknowledge our feelings, put our wisdom to use, and they celebrate our true selves, the beauty that comes from our brokenness.
What books are on your nightstand right now?
First of all, my nightstand is more of a bookshelf. I'm currently reading my friend Julie Sarkissian's debut novel Dear Lucy, and next on my shelf is a work of musings and personal stories titled Barn Doors: When God Swings Them Wide, written by another dear friend of mine, Emma Broch Stuart.
I also like to read (or reread) the classics, books I loved or missed while studying literature in high school and college. My current classic is Catch 22 by Joseph Heller, a book I've never read and am finding to be very funny.
I'm writing my second book at the moment, which often steals from my reading time. But if I can skim a page or two before crashing into bed, I sleep better and feel more balanced throughout the day. It's that writing/reading combination that challenges and replenishes the mind.
Thank you, Sara! It's been a pleasure. 
About the book: (from the publisher) Ava Larson is going to bring all the other brides to tears.
Engaged to a wealthy NYC socialite's son, Ava is ready to set the city abuzz with her glamorous wedding. At least until she realizes her relationship isn't what it should be. Then, in a move as daring as a red satin dress, she does the unthinkable–she calls it all off and makes a promise to God that from now on, she'll save sex for marriage.
She's convinced the future is hers for the taking, especially when an undercover cop promises a new romance…and an unexpected friendship with the homeless guy under her stoop brightens her days.
But when her carefully balanced life teeters out of control, weddings aren't the only thing to make her cry. Ava has to figure out what life she really wants to live…and what in the world love really means.