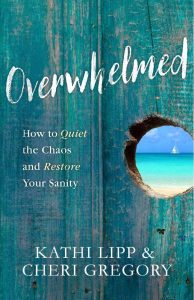 Overwhelmed: How to Quiet the Chaos and Restore Your Sanity
by
Kathi Lipp
and
Cheri Gregory
About the book: (from the publisher) "I don't even know where to start!"
Feeling overwhelmed? Wondering if it's possible to move from "out of my mind" to "in control" when you've got too many projects on your plate and too much mess in your relationships?
Kathi and Cheri want to show you five surprising reasons why you become stressed, why social media solutions don't often work, and how you can finally create a plan that works for you. As you identify your underlying hurts, uncover hope, and embrace practical healing, you'll become equipped to…
trade the to-do list that controls you for a calendar that allows space in your life
decide whose feedback to forget and whose input to invite
replace fear of the future with peace in the present
You can simplify and savor your life—guilt free! Clutter, tasks, and relationships may overwhelm you now, but God can help you overcome with grace.
About the authors: Kathi Lipp is a busy conference and retreat speaker and the bestselling author of several books, including Clutter Free, The Husband Project, and The Get Yourself Organized Project. She and her husband, Roger, live in California and are the parents of four young adults.
Cheri Gregory and Kathi Lipp are coauthors of The Cure for the "Perfect" Life. Cheri spends her weekdays teaching teens and weekends speaking at women's retreats. She and her husband, Daniel, live in California.
Genre: Non-fiction/Christian Living/Women's Issues
Realistic & practical guide for getting out from under #Overwhelmed @KathiLipp @CheriGregory
Click To Tweet
My take: This book couldn't have come at a better time. Though I don't like to admit it, life can feel a bit much sometimes. Wife, mom, daughter, sister, friend, writer, blogger, volunteer — each of these hats I wear requires a piece of me. On my best days, I'm busy; on my worst, I'm overwhelmed. I don't value busyness for busyness's sake, but there are a lot of things — good things — going on. Learning which balls to keep in the air and which to let drop requires an intentionality that often feels like just one more thing to manage.
Kathi Lipp and Cheri Gregory's Overwhelmed let me know I'm not alone in my experience. Which is comforting, but these authors do much better than simply leave it there. In their concise and friendly book, they offer a wealth of insight and practical suggestions for women who want to get out from under overwhelmed.
Everything about this book felt different from the typical self-help kind of resource. (As a Christian, I don't care for that term, "self-help" — and it's certainly not how this book positions itself — but you know the type I'm talking about.) For starters, it contains a couple of self-assessment quizzes to aid the reader in determining where she needs the most help so she can focus her attention there. Often I skip these kinds of quizzes, assuming I already know the outcome. But something made me take two minutes and actually follow through on these. And guess what? The results surprised me. Better than that, by helping me identify my own brand of overwhelmed, I am now better equipped to take action against it.
Another surprise was the artful blending of inspiration and practicality. And I really liked Kathi and Cheri's voices playing off each other. They come at issues from different perspectives, which adds depth and breadth to their teachings.
Two takeaways made reading this book absolutely worthwhile: the concept of creating one's own Personal Manifesto, allowing women to pre-decide important decisions before stress or emotion muddy the decision-making waters. And the Project Map, which handed me the key to getting one of my own complex, emotionally laden, multi-person projects unstuck.
Whether she feels overwhelmed in decision-making, goal-setting, or managing her emotions and relationships, this book is a must-read for any woman who sees herself in need of overcoming overwhelmed. Highly recommended.
Thanks to the authors for providing me this book free of charge. All opinions are mine.
After words: What makes you feel overwhelmed these days?