So here's my confession: though I've followed Jesus since childhood, it took me until well into adulthood to fall in love with His word. Actually, that's not much of a confession, is it? My observation is that it's the rare Christian who doesn't struggle to relate to Scripture at some point along her journey. It can take years to form an appreciation. But once it sparks, that appreciation grows. That's been my story anyway, and I know I'm not alone. 
Now that I actually do like to read my Bible, my challenge is finding creative ways to keep it fresh. One way I've found is to read in versions other than my favorite (NIV). I recently read the whole of the New Testament in Eugene Peterson's The Message. Now I am starting over in the New King James Version (NKJV). Today's featured edition is one I'm particularly eager to introduce you to — along with the opportunity to win a giveaway copy for yourself.
NKJV Journal the Word™ Bible, Large Print
The book: (from the publisher) The NKJV Journal the Word™ Bible, Large Print allows you to creatively express yourself every day with plenty of room for notes or verse art journaling next to your treasured verses. With unique and sophisticated covers, this single-column large print edition features thick cream-colored paper with lightly ruled lines in the extra-wide margins, perfect to reflect on God's Word and enhance your study.
Excellent for a gift or for personal use, it can also be a cherished heirloom to pass on to future generations with your personal writings inside!
Features of this treasured Bible include:
Lined, wide margins for notes, reflections and art
Thicker cream paper for enduring note-taking
Large print 10-pt font eliminates eye strain when reading
Words of Christ in red
Lays flat in your hand or on your desk
Ribbon marker
[Tweet "Ideal Bible for creatives + 1 up for grabs: NKJV Journal the Word Bible #giveaway @NelsonBibles @TheBlogSpotCom"]
Reflection: Do you have a favorite Bible? I do. Mine is a compact, burgundy leather-bound, NIV Bible, which my new husband gave me for Christmas 26 years ago. Well-worn and filled with my handwritten notations, I've already replaced its binding once, and will probably do so again before my lifetime is done. It is my go-to Bible that never travels with me because I could never replace it if it were lost.
While I do have my favorite, that doesn't preclude my trying something new for a while. In fact, I seek those opportunities in order to keep my Bible-reading fresh. Which is precisely why I welcomed the chance to check out this new Journal the Word™ Bible in NKJV. And friends, I like it. A lot.
As mentioned above, I have always been a note-taker, marking dates, cross references, and aha moments into the puny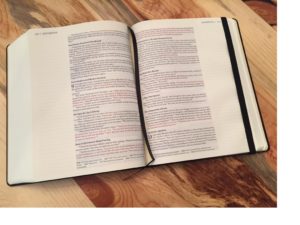 margins of my go-to Bible. But with this Bible — the space! For journaling, notes, doodles…whatever helps you zero in on certain words or ideas so that you can better commit them to heart and mind. Perfect for creative types. And, bonus, the paper is not of the onion-skin variety, either. I wouldn't say it's sturdy, exactly–if it were, its bulk would be prohibitive–but your pen won't easily bleed through the paper, either.
Speaking of size, this version is hefty, a good two times the size of my other Bible. It's not an edition I will be tucking into my handbag or even my suitcase for travel. This is the large-print edition, which I highly recommend. The print size makes it so much easier on the eyes, an attribute I appreciate the older I get. The hardcover and binding allow the pages to easily lay open flat, which enhances my comfort as the book rests in my lap or on the table in front of me.
A note about the NKJV: as I already remarked, I make it a practice to read different translations in order to keep the material fresh. Before reading this one, I wasn't particularly familiar with the NKJV. But I found it accessible to today's contemporary reader while still retaining much of the poetic beauty of the original KJV. I recommend taking the time to read the preface, which explains the history, philosophy, and scholastic rigor behind this translation. It will serve to bolster your trust in its scholarship. FYI, Journal the Word™ Bible is available in KJV as well.
So yes, I like my NKJV Journal the Word™ Bible and predict it will become a valuable addition to my collection. If you're seeking a new Bible with some staying power, I recommend this one. Of course, Bibles also make great gifts. With Christmas winking at us from around the corner, you may want to add this one to your shopping list.
Thanks to BlogAbout and Thomas Nelson for providing me this copy free of charge. All opinions are mine.
After words: What's your favorite translation of the Bible?
Giveaway: Enter to win a print copy of NKJV Journal the Word™ Bible, Large Print through November 21 at 11:59 pm. Must be 18 or older to enter. Winner will be chosen at random and notified on November 11th. U.S. entries only please.  a Rafflecopter giveaway