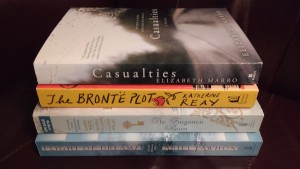 I can't always anticipate the books that arrive in my mailbox.
Some I've requested, but others find their way to me unannounced. Either way, with a plethora to pick from, I have to be choosy. At the same time, I love giving a chance to books I might not otherwise consider–because they're outside my preferred genre, perhaps, or by a debut or new-to-me author. Sometimes the gamble pays off, sometimes it doesn't. In any case, what does or doesn't work for me might hit you entirely differently. So for that reason, I wanted to give you a glimpse
into several books that have recently arrived in my mailbox.
All the Way to Heaven. I'll start with one that did not actually arrive in my mailbox but as an e-book that came by way of recommendation from a respected writer-friend, who thought I would enjoy it. "Lyrical," she called it, and "an adventure to another country." She was absolutely right on all counts.  From its first pages, I recognized Becky Doughty as an unusually gifted writer. Pacing, tone, dialogue, romance, and especially the characters–all these, she nailed. Though marketed as mainstream young adult (with Clean Teen Publishing), I believe its wholesome romance and light inspirational touch will delight a much wider audience, from teen to mom (that's me) to octogenarian. It's a stand-alone novel that is first in a series–which means I'll be back for more. Available in paperback, it's also free as a Kindle e-book. Click here to "buy" yours.
Casualties. This debut by Elizabeth Munro sparked my interest because it addresses an unusual topic for women's fiction. Plus, I'm always on the lookout for novels that address real-life issues, and this one seeks "to convey the damages of war through fiction, this time from the fresh perspective of a soldier's mother." So I was game for material that promised to be on the heavier side, but while some endorsers called it "heartfelt," I didn't feel it. I couldn't connect with either mother or son (the two point-of-view characters). Both had hard edges I wasn't able to get past, and the extreme profanity, while not exactly inappropriate, was still unpleasant. So while I applaud the willingness of publisher and writer to venture into tough territory, in the end I decided to give this book a pass. Still worthwhile, however, is this thoughtful interview on the subject of Casualties and more. 
The Bronte Plot. Oh, I so wanted to like this one, with its themes of classic-lit, book-love, and England. It tops the favorites-list of many a reader I respect, but thanks to the vagaries of character and taste, this one simply didn't do it for me. Why? Its slow start, for one, and then I could not tell where the story was heading. Did it even have a plot? I was left guessing for a good while until I finally picked up the thread many chapters in, but by then I wasn't liking the main character so much. Bummer. 🙁
The Forgotten Room. I easily said yes to this one as two of its three authors (White and Williams) are among my favorites. (I'm not familiar with Willig's work.) So, I was disappointed when the story failed to grab me. I kept reading, waiting for the hook to happen–but it didn't. Lovely, lyrical writing, but a lot of description and no one compelling character to make me want to keep going to see what happens. So, sadly, another pass.
Flight of Dreams. So excited to read this one this winter, another lush historical fiction from She Reads' own Ariel Lawhon. Early signs indicate it's going to be a winner, with an intriguing cast of complex characters, a chilling setting, and a plot to keep readers guessing. Check out the lovely trailer below. Oh, and did I mention a prize package giveaway? Yes. I'm in!
With the exception of All the Way to Heaven, all books provided to me by the publisher. All opinions are mine.
After words: I'd love to know what's on your TBR pile. Anything I need to add to mine?