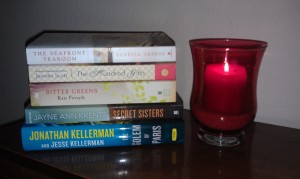 I can't always anticipate the books that arrive in my mailbox.
Some I've requested, but others find their way to me unannounced. Either way, with a plethora to choose from, I have to be choosy. At the same time, I love giving a chance to books I might not otherwise consider–because they're outside my preferred genre, perhaps, or by a debut or new-to-me author. Sometimes the gamble pays off, sometimes it doesn't. In any case, what does or doesn't work for me might hit you entirely differently. So for that reason, I wanted to give you a glimpse into several books that have recently arrived in my mailbox.
The Seafront Tearoom by Vanessa Greene is one of two novels I'd hoped to be able to present to you as some cozy reading for the upcoming season. Of course I love the delicately feminine cover and the premise of women from different walks of life being drawn together in friendship over tea and the solving of a common problem. But the story got off to a slow start (too much description), and then it signaled a turn in a direction I didn't care to take. So I didn't.
The Hundred Gifts by Jennifer Scott is the second of the two novels I'd hoped would bring some yuletide cheer. This one is a story set at Christmastime, which I liked, and I was drawn by its theme of giving–especially hard giving, that is, to people who are hard to love. I swooped through the first chapter, enjoying its lilt and sense of fun. Things looked promising. But as I got into it, I was more dismayed than entranced by the crude language and Bren's woe-is-me attitude–the latter of which I expected to improve as it was part of the story's set up, but the former I didn't hold out the same hope for. So, after a certain amount of it, I decided it wasn't adding to my holiday mood and called it enough.
Bitter Greens by Kate Forsyth has actually been sitting on my pile for a while, one of those books that arrived unannounced. I haven't gotten to it  yet, but I may still do so when the opportunity presents. The author is new to me, but the story is not: a retelling of the beloved Rapunzel tale, this one set during the Renaissance. Fairly recently, I rather enjoyed a similar retelling of Sleeping Beauty (While Beauty Slept), so I have some hope that this one (a Library Journal Best Book of 2014 in HistFic) may be worth my while.
I had been looking forward to Secret Sisters by Jayne Ann Krentz after reading its premise about two friends-like-sisters, estrangement, secrets, and imminent danger.  My interest was further heightened upon reading the foreword note from the author in which she describes how the story "blindsided" her, enthralling her as it flowed from her imagination. "Writing it was a rush," she says. And given its basic ideas, I can see how it was, but the execution of it lacked the depth and nuance I've come to appreciate, especially in terms of dialogue and characterization. So in the end, I gave this one a pass. (There was, however, a dish involving tomatoes, feta, and eggs, created by Jack (the love interest) that I'm seriously
going to try. Page 23, if you're interested.)
The Golem of Paris by heavyweight crime novelists Jonathan Kellerman and Jesse Kellerman, was also a surprise find in my mailbox. Not my typical read, for sure, but it's funny what you're willing to read when the right mood strikes. It's supposed to be genre defying, which can be interesting. We'll see.
After words: I'd love to know what's on your TBR pile. Anything I need to add to mine?