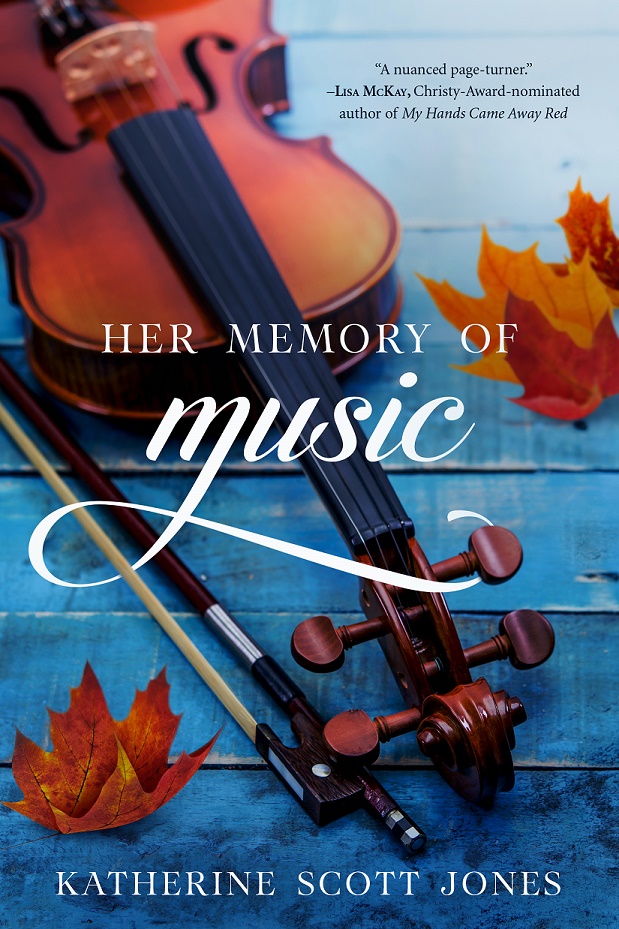 Here we go, friends! It's feeling very real now, the release of my debut of Her Memory of Music. Today I'm taking a moment to celebrate by sharing with you its cover (designed by the über-talented Jenny at Seedlings Design Studio). Isn't it lovely? I couldn't be more delighted.
When Her Memory of Music officially releases in September, I'll be offering my blog readers a special discount. Stay tuned for those details, but meanwhile, here's a little more about the book. 
Quick take:
Life has taught Ally Brennan to stay on her guard—even in quiet Langley-by-the-Sea. A resourceful single mom, she's content to play her beloved viola for an audience of one, fiercely protective of the stable life she's created for her young son. She gives no hint of secret fears, a musical career abandoned, or the man she once loved who shadows their happiness.

When a burglary threatens Ally's peaceful existence, it thrusts her into an unlikely friendship with her neighbor Rees Davies. As their families' lives entwine, Ally and Rees resist the attraction between them, believing a future together could not possibly work. Then a terrible accident draws her back to the hometown she fled, forcing confrontations with those left behind. If she hopes to reclaim the life she dreams of, Ally must make peace with what she's sacrificed—and entrust dangerous secrets to those she's come to love.

Lyrical and layered, Her Memory of Music explores the burden of love and the high stakes of vulnerability.
It's here! Cover reveal for #HerMemoryOfMusic @KatherineSJones. Official release 9/12/17 @RedemptionPress…
Click To Tweet
Early praise: 
"Katherine Scott Jones's The Memory of Music is so fine-tuned and nuanced that it reads more like a veteran novelist's tome rather than a debut novel. Human trafficking, infertility, domestic abuse: all of these heavy topics are addressed with such a nimble hand that they propel the story's momentum to a riveting climax. I am already counting the days until Jones's sophomore offering!" ~ Jolina Petersheim, bestselling author of The Outcast and The Midwife

"The Memory of Music has so much to love—a charming island setting, a gifted musician, a child at risk, gentle romance and parallel mysteries. It is a grace-filled and entertaining read." ~ Rachel Phifer, author of The Language of Sparrows

 "The Memory of Music is a nuanced page-turner. In this novel, Katherine Scott Jones delivers a compelling characters and a story that's hard to put down. Along the way, she deftly explores some of the complex emotions that are intertwined with life's dark moments and disappointments." ~ Lisa McKay, Christy-award-nominated author of My Hands Came Away Red and Love at the Speed of Email

"From a fresh, new voice, The Memory of Music has all the elements of a lovely read. Katherine Scott Jones weaves the whimsical with raw emotion to create a captivating story." ~ Sherri Sand, author of Leave It to Chance

"All women identify with unmet dreams. The Memory of Music allows us to question our inner longings within the privacy of the pages of a book. There we identity with well-developed characters who grapple with their own disappointments while leading us toward the promise of hope and capability. In her remarkable debut novel, Katherine Scott Jones captures our universal ache for wholeness." ~ Kim Galgano, speaker, life coach, and author of The Chance to Choose

"You'll want to keep flipping the pages of Katherine Scott Jones's captivating novel, which tackles the difficult issues of human trafficking and infertility while delivering a beautiful story of hope and redemption." ~ Kirsetin Morello, freelance writer, blogger, and author
Thanks for reading!