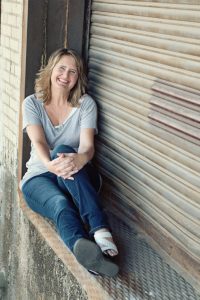 Mary DeMuth is all about redemption and second chances. She is the host of the Restory Show podcast, and these themes underlie every episode. The Restory Show features the stories of everyday people whose lives have been transformed by the generosity of God's grace. "The old has gone," Mary says. "The new awaits." Her show provides the place for people to share their stories with listeners eager for hope and encouragement. A multi-published author, Mary and her husband are emptynesters living in North Texas.
Mary, how did you get started on this re-story journey?
The idea of restory came to me about two years ago. I realized that all that healing God had performed on my behalf meant something in the kingdom. It wasn't just for me; healing was for the sake of others too. The restory God has done in me has now compelled me to help others experience a restory.
How has your re-story moment changed you?
I have a lot more joy in sharing my own story because I know it's not in vain. I know that as I share the faithfulness of God in an honest way, others will be encouraged.
On being restoried and restored. 'The old has gone. The new awaits.' @MaryDeMuth
Click To Tweet
In the re-story context, what does it mean for you to celebrate beauty amidst the brokenness?
Both hold hands, beauty and brokenness. We often think, well if this circumstance would improve or that person would change, I would finally have a beautiful life. But the truth is, the beauty is where we are, in the mess of it all. God is gracious to show up in the midst of an unfolding story, not necessarily a neatly tied up story.
What one word of encouragement would give to those reluctant to believe in the power of re-story?
Read the stories of the Bible and be encouraged at how God has restored and restoried so many. But even if you don't have the outcome you're longing for, remember this life isn't the end of the story. We may need the faith to glimpse our reward from afar, on this side of eternity. On the others side, all things will be made right.
What books are on your nightstand right now?
One about design and another about speaking. 🙂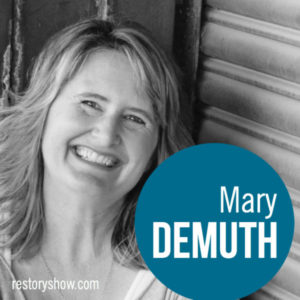 Thank you, Mary, for sharing a part of your story here today. It's been a pleasure. 
Connect with Mary: Website | Facebook | Twitter | Instagram | Pinterest
About the podcast: Hear ordinary people who face extraordinary circumstances, yet still grow deeper in their relationship with Jesus. Surprising, encouraging, and unsettling (in a good way), the Restory Show helps listeners find Jesus in the midst of their own stories.