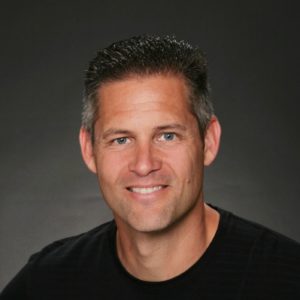 Friends! So delighted today to introduce you to this dynamic speaker. Meet Keith Ferrin — husband, father, author, and storyteller extraordinaire. He possesses a deep passion for God's Word, and a deep desire to pass that passion along to the next generation. A few months ago he spoke at our church — which included delivering the entire book of Philippians to us…from memory — keeping a large room of people enrapt for almost two hours. I can tell you his perspective and practical suggestions have transformed the way I approach my Bible.
Keith loves God's Word. It's the reason he wrote Like Ice Cream, our topic today. You can find out more about the book itself below — a great resource for parents with children at home — but first, I'd like you to hear more from Keith himself.
Keith, Welcome! Let's begin with your telling us which incidents sparked your interest in writing Like Ice Cream.
The short version: The births of Sarah, Caleb, and Hannah.
The slightly longer version: I had been teaching my Falling in Love with God's Word workshops for several years before Kari and I had children. People would always ask me about how to utilize these principles with kids. I knew it was important – very important – but we didn't have kids yet. Once our kids came along, the "important" became "urgent" and I realized writing this book was a necessity for my own family.
Why do you think you were the person to write this book?
I had been writing and speaking about enjoying the Bible and studying it "relationally" for almost 15 years before I wrote the opening sentence of Like Ice Cream. Over the years, I had been asked about the topic of passing on faith to the next generation literally hundreds of times. Because of that, I had already given it a lot of thought and had heaps of conversations about it. Since I speak each year at many different churches and conferences, I was blessed with the opportunity to have conversations with a diverse group of parents, grandparents, youth pastors, children's pastors, and volunteers. In many ways, after that many conversations with dozens of different people, the book sort of wrote itself.
[Tweet "On teaching kids to love God's Word: @KeithFerrin #LikeIceCream"]
When people read Like Ice Cream, what do you hope is their biggest takeaway?
If I had to narrow it down to one takeaway, it would be that if you want to pass on faith to the next generation, you need to love it yourself. When you love something, you talk about it more frequently, more naturally, and more passionately. If I could add a second takeaway, it would be the absolute necessity of making our Bible conversations about identity (who it says we are), not morality (what it says to do).
What is your #1 tip or tool for encouraging people to find joy in reading the Bible?
Narrowing it down to one tip is really hard. Other than having a mindset that is relational (which I've already alluded to), I would say the most practical tip I could give would be to read larger quantities in each sitting – at least at first. Think of it as watching a movie before analyzing the scenes. If you're reading a short book of the Bible, read the whole thing. If you're reading a longer book, pick a time – 15-30 minutes – and just read. It puts your mind in a very different place from saying, "I've got to get through three more chapters."
Not to get too technical, but research shows that our brains don't really "click into gear" until we've been reading for at least ten minutes. Ironically, most people read the Bible either a chapter-a-day or a snippet in a devotional. So…that means we're only actually reading the Bible between 30 seconds and four minutes a day. It's no wonder our minds wander!
What brings you the greatest encouragement—both as a writer and speaker, and as a person?
As a writer, when someone sends me an email saying that one of my books has had a genuine, practical impact on their journey with Jesus. As a speaker, when someone comes up after a presentation and tells me they've heard the Bible in a new, fresh way. And as a person, that answer goes to my "job" as a dad to three kids. Since they're all in elementary school and middle school, I'm cherishing every day they still like hanging out with me – even when their friends are around!
Do you have another book waiting to be written? If so, can you give us a teaser?
I actually have two in the works right now! One is about the life-changing impact – as well as the nuts-and-bolts process – of doing a 4-Month Bible Read Thru. I've done one every January through April since 2010 and it's been one of the most beneficial habits I have ever established. This year, over 200 people from around the world joined me!
The second is one I'm co-authoring about "Bible Praying" for your kids. In short, taking the words of Scripture, combined with the names of your own children, and praying Scripture every day, covering 20 different categories of life and faith. There will also be a section with Scripture blessings you can say directly to your kids. Stay tuned…
About Like Ice Cream: The Scoop on Helping the Next Generation Fall in Love with God's Word: (from the publisher) What if passing on a love for God s Word could be as natural and enjoyable as passing on a love for ice cream? Keith Ferrin believes it can be.
When it comes to creating an environment in which the next generation is most likely to fall in love with the Bible, the principles are surprisingly similar to the way a love for ice cream gets passed on from generation to generation. Whether you are a parent, youth pastor, children s pastor or anyone who cares deeply about the next generation you will find Like Ice Cream to be filled with encouragement and practical ideas you can start using today.
Connect with Keith: Website | Facebook
Want to invite him to speak to your group (highly recommended)? Click here.