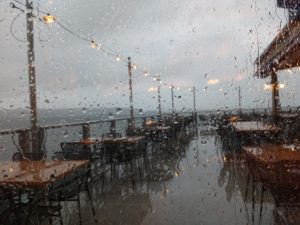 Rain
. It's official: the Pacific Northwest has just come through its wettest season on record. And still it continues. It's enough to make even Seattle stalwarts blanch. Can we be done now?
But also flowers. Though it was late to start, we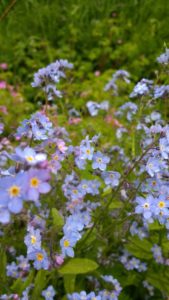 finally got our green-up, with plenty of pinks and pastels tossed in just to show off. Which means that while our skies are mostly gray, our landscape is very pretty. Thank you, God, for abundant beauty. 
God For Us: Rediscovering the Meaning of Lent and Easter. This year, I was determined to do Lent differently by being more intentional in my observance of it. This lovely book helped me so much in that regard. I bought it because I admire Luci Shaw's poetry, and she is one of the contributors. While I liked the way this book drew together the ecumenical observations of a variety of Christian thinkers, I loved how the beautiful artwork reflected the daily themes and invited deeper human connection across time and space.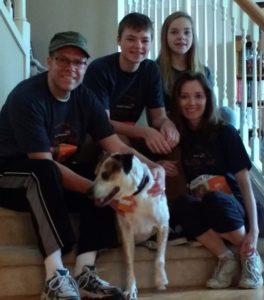 World Vision's Global 6k for Water. On May 6, our family (and Remy) joined with tens of thousands of others worldwide to walk (or run) 6 kilometers, the average distance people in the developing world walk for water — water that is often contaminated with life-threatening diseases. Participation in the 6k helped raise funds to provide families around the world clean water.
Tim Hawkins. Once again indulging the Jones family's obsession with our favorite funnyman, we joined up with a few cousins to travel to the far lower-left corner of the state to see him in Vancouver, Washington. As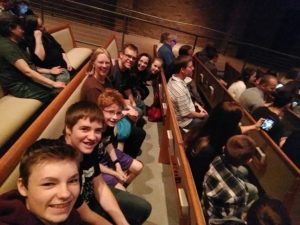 always, we laughed until we cried. Good for the soul, that stuff is.
Language lessons. Because we are weeks away from our first visit to Italy. We installed this app on our phones so that every day we can dose ourselves with a bit of Italian. So fun.
My first newsletter. Did you miss it? You can catch the next one by signing up in the sidebar on the right, which also gives you access to a free download, "celebrate beauty" wallpaper for your mobile device. Never worry that I'll do anything nefarious with your email address. It stays right here and allows me to connect with you a couple of times a year to share subscriber-only news tidbits, giveaways, and cover reveals.
Pinterest. WAY late to this party, I know, but I'm finally up and running on the ever-popular Pinterest. Of particular note: my brand-new board for my upcoming novel, Her Memory of Music. Check it out here, and follow me at KatherineScottJ.
So that's it for me. What are you into these days?