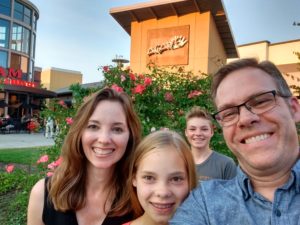 The last days of summer.
They have waned, and I must confess I'm not quite yet ready to see them gone.
Thankfully, here in the Pacific Northwest Indian Summer tends to hang on for a while, and we are making the most of these days with fun outings — such as this family movie/dinner night to Kent Station (where, incidentally, we saw the movie
Ben-Hur
, which was good but, IMO, not great. Both my husband and I preferred Tyndale's newly released, updated-for-modern-readers version, reviewed
here
.)
New schools and driver's ed. By the time this posts, my kiddos will have returned to school. I now have a middle schooler and a high schooler, a fact I'm still trying to wrap my head around. Said high schooler is also now driving with his driver permit, which he acquired mere days after his 15th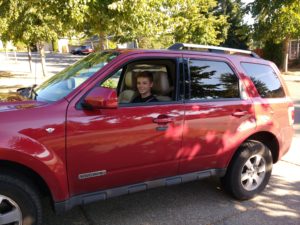 birthday. Welcome to my world. It is surreal. Jack now has about half his driver's ed classes under his belt, and about a fourth of his required 50 hours of driving. This part of the process has been remarkably easy as he is proving himself to be a very capable driver indeed and will be quite ready for the real deal when it rolls around next summer.
[Tweet "Last summer days, driver's ed, Open Door Sisterhood, & #OutOfSorts @SarahBessey"]
Open Door Sisterhood. Something new and exciting for me — the Open Door Sisterhood, self-described as this: "Each year hostesses Krista Gilbert and Alexandra Kuykendall invite a small group of women to participate in a yearlong mastermind experience. The group is meant to foster personal reflection, professional learning and peer input. And in the spirit of the Open Door Sisterhood, this is done through trusted community." Suffice it to say I'm beyond thrilled to be a part of this year's Sisterhood, which includes a lakeside retreat next week in beautiful northern Idaho. I'm sure you'll be hearing more about it after the retreat, but I've been spending many hours these last weeks preparing for this mastermind event with other writer-blogger-speakers who purpose to be world changers. (Co-founders Krista and Alex have recently branched out into the world of podcasting too. Interested? Check that out here.)
Out of Sorts: Making Peace with an Evolving Faith by Sarah Bessey. Several months ago, a dear friend gifted me with this book, seeing in it something she thought I needed. How thankful I am for my friend's prescience! I not only resonated but continue to resonate with Sarah Bessey's perspective beyond her years. Her gracious wisdom has saturated my thinking and permeated my soul, allowing me to unclench from several of the hurts that world has recently inflicted. Here's one of my favorite passages, from her chapter entitled, "Wild Goose: On Faith, the Spirit, Signs, and Wonders":
 "I sort of like how we're spread all over the place and how we each have our own way of worshipping or understanding God while still being part of the same family. I think it's one of the beauties of Christianity. I see the different kinds of Christians not as exclusively a lack of unity, but as affirmations of our diversity — the ways that God has reached us and spoken to us, the ways that God works with us and in us, with unique beauty. For the one who craves logic, there is a stream for you. For the one who craves liturgy and tradition, there is a stream for you.

The ways I need redemption and community may be different from yours. But we need each other, and we need to learn from each stream, because our stories don't happen alone; our roots are all tangled together. The logical ones need the mystics, the mystics need the traditionalists, the liturgists need the new song, the experiential need the sola scriptura crowd. The Church has crept and stumbled, sailed and spun around the world, and yet, we are a family tree still. Sure, a few branches would love to cut themselves off from the rest of us, but we're still connected, our histories are entwined. I have found my home in one branch, but I keep visiting the homes of the rest of my family to learn and to connect, to swap stories before heading back to my own place." (p. 159)*
So that's it for me. What are you into these days?
*Thanks to the publisher, Howard Books, for permission to reprint.