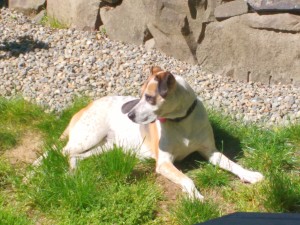 Hurray for spring that's sprung! We've had some truly glorious days these past weeks, including a few that have popped up into the 80s. The 80s! In Seattle! In April!! Which means for several days, the back deck became my office. Where I also, incidentally, enjoyed my dog enjoying the sunshine. What is it about watching my dog blinking in the sun that brings me joy? I think it's something to do with the way God wired me. I love that He created people and pets to derive mutual pleasure from each other.
In related news: sunshine + high temps = skirts and sandals. LOVE.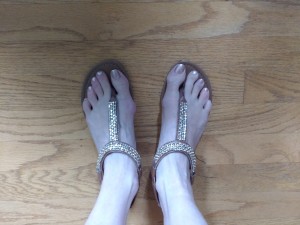 From the Totally Random File, my latest addiction: roasted veggies (of just about any kind, but maybe especially sweet potatoes) with Sriracha dipping sauce. I cannot eat just one!  (Care to join me in my addiction? Dipping Sauce: mayo mixed with a squirt-to-taste of Sriracha. :))
Thinking ahead to Mother's Day (as well as graduations, spring birthdays, anniversaries, and other gift-giving occasions) may I suggest any of these thoughtful sources for inspiration. I'm doing a bit of shopping from all three.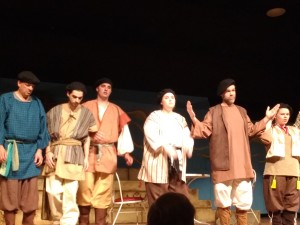 Finally, these days I'm also very into Joseph in the Amazing Technicolor Dreamcoat, the local theatre production in which my family took part. After months of rehearsals (and having Andrew Lloyd Webber songs stuck in my head)–showtime! With Scott (pictured, second from right) and Madeline on stage, and Jack in the pit on drums. Me? Totally content this time watching the run of five shows from the audience.
That's it for me. What are you into these days?