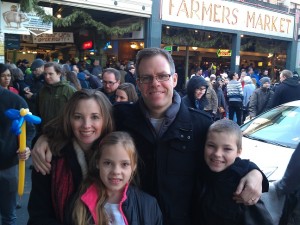 First off, I have to say that following two weeks of Christmas break, I'm into my kids. I will add that the older they get, the more I enjoy them. My mom always claimed this to be true with my brothers and me, and now I'm happy to be living it out myself. I've cherished these days of hanging out with them–and hubby too, who had a few days off and was otherwise able to work from home for the duration. When we weren't enjoying the comforts of home (my kids relish nothing better than stay-at-home jammie days), we might have been catching a Thunderbirds hockey game or attending a New Year's Eve party. Or spending time in the city as we did the day after Christmas when we took the light rail downtown, popped in at the Seattle Art Museum, browsed the farmer's market, dined at Pike Place Pub–and pretty much just had fun being a family. What can I say? I like these people and am thankful every day they're mine.
There's something about the first week of the new year that I just love. I think it's all about the promise of fresh starts and new beginnings. As much as I adore having my house decked out for Christmas (and I do), I also look forward to taking down and storing all those decorations for another year, leaving up just the snowmen to dress up a house that looks austere by comparison. I also welcome the chance to evaluate what worked and didn't work last year and to set new goals and plan new projects for the year ahead. For me, this includes writing novel #3, planning a trip to Ireland (ideas, recommendations, anyone?), and recording my mother's life stories for the benefit of future generations (and me! I'm unearthing tales I'd never heard before).
Speaking of the new year, ours always begins with New Year's Lucky Pig, which roasts slowly in the oven and fills the house with unbelievably delectable smells. As I spend the day transitioning the house from Santa to snowmen, this mouth-watering aroma reminds me that there is a reward at day's end for my labors. I thank my well-traveled mother-in-law for this tradition. While I'm glad for many of the homey customs she passed on through her son, I am perhaps most grateful for this one. She adopted the tradition herself whilst living in Germany, where they believe that pigs are lucky, and that serving pig on New Year's Day will bring good fortune for the next twelve months. Maybe my own German heritage explains why I like it so much. Or maybe it's just because it tastes so darn good. I kid you not, this makes for the most amazing feast, and it's ridiculously easy to prepare.
New Year's Lucky Pig
1 lean, boneless pork shoulder roast (2-4 pounds)
1-2 jars sauerkraut (depending on roast size)
Remove all surface fat from roast. Surround roast with sauerkraut, sprinkle with pepper. Cover and roast in oven at 325 for hours until meat forks apart easily (5-8 hours). When done, spoon melt-in-your mouth meat and sauerkraut over mashed potatoes.
Guten apetit!
Note: I cook a larger roast, 4 pounds, so to have plenty of leftovers for making Mom's Old World Stew. That's a recipe for another day, but feel free to email me if you'd like to have it now!
On the reading front, of course I have a pile of delicious-looking novels that I look forward to sharing with you over the next few months. But there's another that I'm not reading for review that I absolutely must mention here. It's Lysa TerKeurst's The Best Yes: Making Wise Decisions in the Midst of Endless Demands. A sweet friend who's a part of my ladies chat group gifted me with it, thinking
I might enjoy it 1) because I collect books 🙂 and 2) because in our group, we talk a lot about how to make smart choices and she thought it might be relevant. I was excited because I've loved every book I've read by Lysa TerKeurst, but I didn't think this particular book would have a whole lot to teach me. After all, I'm already a fairly deft hand at saying no, drawing boundaries, and maintaining margin in my life. Whoa. Friends, let me tell you–this is a must-read for every Christian woman over the age of 20. I've learned so much–about the power of a small no and God's boundless provision and my own limitations–and all while figuratively sitting at the feet of one of the warmest, wisest mentors out there. If you were here beside me , I'd place this book in your hands and say, "Read it. Now. Your new year…and your life…will be the richer for it."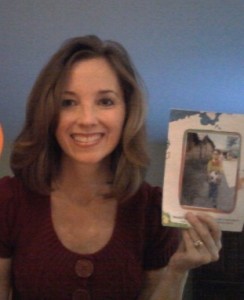 Finally, I'm also into Child Sponsorship because it's such a simple, amazingly effective way to make a difference in our hurting world. You can read more of my thoughts on that subject here. Our family finds a lot of joy in sponsoring several kids already–two in Swaziland, one in India and another in Bolivia (that's me holding a pic of sweet Kajal from India), and we'll probably wind up with another before this year is out. I love knowing that I can help change how these kids' stories end.
So that's it for me. What are you into?
P.S. I lifted the idea for this post from my friends over at She Reads because I totally love it–tho' I'm pretty sure I've heard them say they themselves grabbed the idea from somewhere else too. Good ideas are like that!