Gifts of the Season
a (true) story by Katherine Scott Jones
"New hockey gloves," said ten-year-old Jackson. "That's what I want to buy with my money." Our family was driving to one of Jack's hockey games the day after an early Christmas celebration, during which both kids had received a crisp fifty dollar bill from their Papa Jones. They were pondering what they might do with that kind of loot.
"How about you, Madeline?" I asked our daughter, age seven.
Silence from the backseat while she considered the question. Then a happy gasp. "I know! I'll buy Benny."
My husband and I chuckled. Benny played goalie for Jackson's team and as such had recently secured our daughter's admiration. At an out-of-state tournament a few weeks earlier, we'd gotten to know Benny and his dad, Pat, a bit—well enough to know that the pink ribbon tattooed on Pat's arm honored his wife, now two years breast cancer-free. And to know that Pat was a stay-at-home dad, while his wife, a physician, supported the family. All of which we'd found pretty cool.
When we saw Pat at the game, we relayed Madeline's wish. Pat grinned. "There are days when Benny's for sale," he said. We laughed.
Three days later at the boys' next practice, Pat approached me as I huddled beneath my blanket on the chilly rink bleachers. He handed me a manila envelope. Puzzled, I slid its contents into my hand—an 8×10 glossy of goalie Benny sprawled across the ice as he blocked an opponent's shot. And on the back, his signature: Merry Christmas. Ben #19.
I looked up at Pat. "For Madeline?" I asked and he nodded. I felt warm, despite my frosty surroundings, touched by Pat's playful thoughtfulness. Discovering the autographed photo beneath the tree on Christmas would certainly make our daughter's day. But more than that, I recognized the gesture as the gift of friendship—in any year, at any age, one of the very best gifts of the season.
This story first appeared on my blog in 2011. And in case you'd like to know how Madeline reacted to her gift on Christmas morning…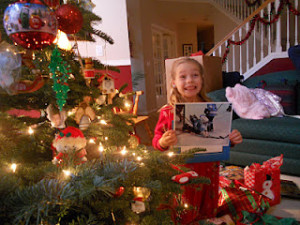 Merry Christmas, friends. Thank you for reading.