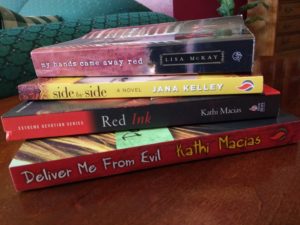 If you're wired anything like me, one of the most effective ways to understand truth is through story.
Even uncomfortable truths — maybe especially these. That's because story has a way of bypassing our intellect and shooting straight for the heart, where compassion and empathy have a chance to take root.
That's one of the reasons I value thoughtful novels that bring real-life issues to light through fiction.  Here are five that have come my way recently, their settings ranging across three continents and dealing with topics as diverse as the Lord's Resistance Army, violence in the name of religion, persecution of Christians, and human trafficking. All have served to expand my world. 
(not pictured above) The Ghost of Africa by Don Brobst (from the publisher): Together New York City surgeon Paul Branson and his
wife, Nicki, had a dream: to help the people of the African bush. After Nicki's untimely death, Paul decides to honor her memory and carry on alone. In South Sudan, he channels grief into hope, caring for villagers and working to save Leza, a little girl with leukemia who has captured his heart.
Meanwhile, Jason Quinn, terrorist leader of the Lord's Resistance Army, has deadly plans for the people of South Sudan. But he needs information to carry out his plot—information from research Paul did for the US government years ago. Quinn will stop at nothing to obtain this secret intelligence, even kidnap a dying child. Now, in order to save the ailing Leza and stop a genocide, Paul must go beyond his medical training to journey into a world of brutal terrorism and global intrigue. With only instinct and his faith as guides, how far will he go to save the lives of thousands?
My Hands Came Away Red by Lisa McKay (from the publisher): Cori signs up to take a mission trip to Indonesia during the summer after her senior year of high school. Inspired by happy visions of building churches and seeing beautiful beaches, she gladly escapes her complicated love life back home.
Five weeks after their arrival, a sectarian and religious conflict that has been simmering for years flames to life with deadly results on the nearby island of Ambon.  Within days, the church building the team had constructed is in ashes, its pastor and fifty villagers are dead, and the six terrified teenagers are stranded in the mountainous jungle with only the pastor's teenage son to guide them to safety. Ultimately, Cori's emotional quest to rediscover hope proves as arduous as the physical journey home.
Red Ink by Kathi Macias (from the publisher): A young Chinese woman, Zhen-Li—raised to observe the party
line, including its one-child-per-family doctrine—falls in love with and marries a Christian, and adopts his faith. Though the couple downplays their Christianity in an effort to survive, Zhen-Li's family is appalled, and she and her husband are ostracized. When she becomes pregnant for the second time and refuses to have an abortion, the persecution begins in earnest.
Zhen-Li's parents, under pressure from the government, pay to have Zhen-Li kidnapped and the baby aborted. It is then Zhen-Li decides she must live up to her name—"Truth"—and take a firm stand for her faith, regardless of the consequences, and so she begins to regularly teach children about Zhu Yesu ("Lord Jesus") and to distribute Christian literature every chance she gets. Based loosely on the life of Christian magazine editor Li Ying, currently serving a ten-year prison sentence in China, the story of Yang Zhen-Li tells the desperate tale of her incarceration and separation from her family, as she continues to minister to other prisoners, and even to her guards.
Deliver Me From Evil by Kathi Macias (from the publisher): Deliver Me from Evil introduces readers to Mara, an eighteen-year-old girl who has been enslaved for nearly ten years, having been sold by her parents in Mexico and then smuggled across the border into San Diego where she was forced into sexual slavery. Readers will also meet 18-year-old, Bible-college-bound Jonathan and his 16-year-old sister, Leah, whose paths cross Mara's and who become involved in her dramatic rescue. Interwoven between the stories of Mara, Jonathan, and Leah is the heartbreaking story of another young woman in captivity in the Golden Triangle of Thailand, whose past life mysteriously connects to the young people in San Diego.
Side by Side by Jana Kelley (from the publisher): In the dusty, Islamic country of Sudan, Mia's life collides with that of another young woman. A young Christian American mother, Mia finds more than one dark secret on the streets of Khartoum. She finds Halimah, a young, upper-class Arab student with a bright future in her family's business whose risky and secretive decision has put her life in danger. What happens when the path of young mother intersects with that of a spunky Sudanese student? God transforms them both . . .forever.
After words: Which "truth in fiction" novels would you recommend?