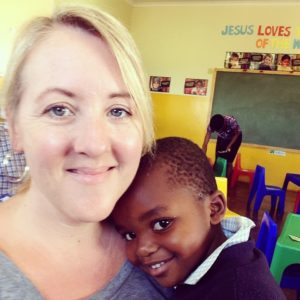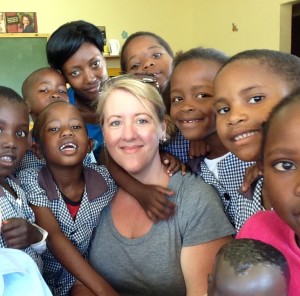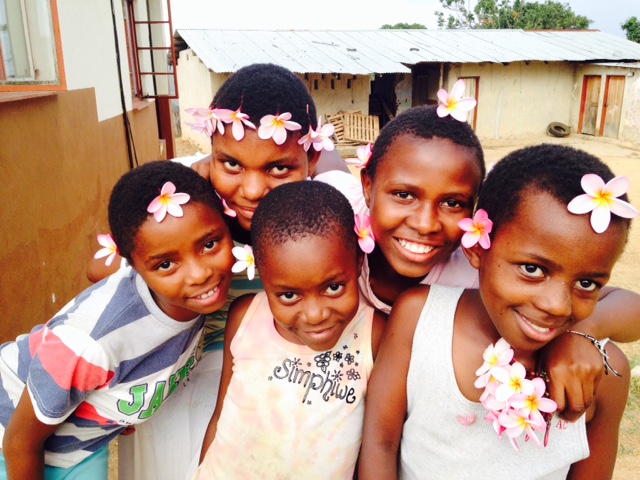 (top row: Tiersa Chaffin with schoolchildren at New Life School; below: girls from New Life Homes)
Today, I'm taking a quick break from my usual fare about books & such to let you know about an urgent need. You may remember that our family stayed at New Life Homes and volunteered at its school two years ago when we went to Swaziland. These are some of the people we met there, and this is part of their story. 
~ ~ ~ ~ ~
At the end of every school day, no matter what challenges may have led to that moment, Tiersa Chaffin could always count on the hugs. At Swaziland's New Life School, the children's hugs come freely and easily, and they became one of the many unanticipated blessings that sprinkled Tiersa's days after she put a successful life in the U.S. on hold to teach preschool at the southern tip of the African continent.
For two years, hugs provided Tiersa a daily high point, as did the chatter of well-spoken English. When she'd arrived at New Life School, these young children had spoken their native SiSwati with ease but virtually no English. But after only a few months in her preschool classroom, they were able to fully communicate in a language that would open doors not only to fuller educations, but to competitive positions in our market-driven world.
And the sacrifices Tiersa made to make it happen? "Totally worth it," she says.
Tiersa's church in Gig Harbor, Washington, planted that first seed of an idea to teach preschool in Swaziland. Nestled between South Africa and Mozambique, Swaziland is a country that, like many African countries, grapples with the AIDS epidemic. Swaziland alone, a nation of about one million people, counts over 80,000 orphans—nearly a tenth of their population left parentless by the disease. Tiersa's home church provides significant financial support to New Life Homes' Christ-centered umbrella organization, Africa Leadership Partners (ALP). That's how she learned that the school needed a qualified person to develop curriculum and train teachers for their preschool program. As the founder of a private preschool who had taught preschoolers for over 20 years, Tiersa was eminently qualified. She also has a special heart for orphans, and this combination of need, circumstances, and gifting prompted her to give New Life's school a careful look.
New Life School is one part of an innovative, three-pronged approach that helps to address the orphan crisis in Swaziland. Through ALP, founders Peter and Mary Jean Kopp bought a 100-acre plot of land twenty years ago, upon which they began New Life Homes, and subsequently New Life School. Forty orphans currently reside on what they call The Farm, housed in several family-style homes, each headed by a Make ("MA-gay," or mom). The Farm is a co-op effort that Peter launched several years ago with an aim to make New Life Homes self-sustaining. The Farm now produces cauliflower and broccoli, which it sells at market, along with pork and chickens and eggs.
As Tiersa discovered, for a Westerner accustomed to the conveniences and shortcuts of a modern lifestyle, Swazi farm life isn't always easy. "It gets real pretty quick," Tiersa admits, and points to a long list of personal qualities needed to successfully adapt to living and working on The Farm.
"Teaching more than one grade is the trickiest part, that and making lesson plans with few supplies. It forces you to think outside the box. At the same time, you have to have a go-with-the-flow attitude. You can't be thrown off course easily, and you can never compare what you're experiencing to what you have in America. This is a third-world environment."
Other challenges range from wrangling with unending bureaucracy, to erratic power outages and supplies, plus dealing with children with PTSD who speak English as their second language—if at all—as well as climatic extremes. "Heat so bad you can't think straight," Tiersa says, rolling her eyes.
[Tweet "Wanted: qualified, adventure-seeking teachers to teach for 1 year at a Swazi school"]
Clearly, the challenges are many, and they also include a dearth of qualified teachers. Which means that as of now, New Life School's future is uncertain. And yet, for those who have been a part of it—including the children themselves—the thought of it ending is painful.
New Life School students receive a superior education to what is currently available in the government-run schools. The outside community recognizes this, leading to a high enrollment of students from off The Farm in recent years. Graduates from New Life School score well as they move into Secondary school and beyond. Perhaps the greatest gift these children receive is an understanding of the great God who loves them, who has not abandoned them to their circumstances.
But unless additional teachers step forward, New Life School will not be able to continue as it is. Which is why Peter and Mary Jean Kopp are now looking for one or two potential new teachers for the next academic year, January to December 2017. "We would love to have a couple who would take on the school as their ministry and work with it for a few years," Mary Jean says. "We need qualified and experienced people with a heart for children who have some background issues that affect their classroom performance at times."
Specifically, they are seeking someone who is:
 A qualified elementary teacher who has done his or her student teaching. Grades 1 and 2, and grades 5-7 are their most pressing needs.
Able to commit to a minimum of 1 school year (January to December 2017).
 Committed to the Christian faith (New Life is a Christian school).
"The ideal candidate would be a recently retired teacher because of their experience and stability," Mary Jean says. "The living conditions are difficult for some people and there's not much companionship for young people.  A married couple would be best, or two singles coming together.  They need to be confident, hard-working, willing to accept some inconveniences, able to live in a rural setting and work with minimal supervision."
Though it's not a life for everyone, Tiersa invites others to consider whether they might be called to this adventure. "You need to be rooted in the Lord, it can't be a whim," she says. "But if you do hear Him call, don't ignore it. Go for a visit. It's so worth it. There will be hard days, no doubt about it, but the kids and the relationships—that's what makes it worth it. It's what God created us for—to love, and for relationship. Seeing how God cares for these children—it's amazing to be a part of that."
Tiersa is now home again in the States. As she looks back over the last few years, she sees that when she decided to dedicate two years to the children of New Life School, she really had little idea of the reward that would follow. At the time, she'd considered only the sacrifice—even though she gladly made it. "Honestly, I really did not anticipate any reward by going there. I thought it would be more like a sacrifice to leave my home, family, and friends. I went to be a help, to try to be a blessing to others." She shakes her head. "Little did I know how blessed I would be." She has no regrets about what she gave up to spend two years of her life in a corner of the African continent. Even as she struggles now to identify what's next for her, she wouldn't have it any other way.
"If I could say one thing about my time in Swaziland, it's that God blew my mind continually." She smiles as she remembers. "He still does."
After words: Do you know someone who might be interested in living and teaching for a year in Swaziland? If so, you can help by forwarding this post. Interested candidates may contact Mary Jean directly at maryjean.kopp (at) gmail.com. She will communicate with them to work through the process necessary to get them there.