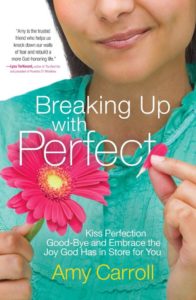 When Breaking Up Is Hard to Do…
Breaking Up with Perfect: Kiss Perfection Good-Bye and Embrace the Joy God Has in Store for  You by Amy Carroll
About this book: (from the publisher) An inspiring and thought-provoking guide to help you abandon the pursuit of perfection and become comfortable and more confident in your own skin.
We've all been in relationships that were bad for us…whether with a catty girlfriend, a selfish boyfriend, or a coworker who undermines our best efforts.
But there is one relationship that steals the potential of all other relationships—including our relationship with ourselves and, ultimately, our relationship with God. And that's our relationship withPerfect.
Perfect is a bad friend. No matter what we do or say or give or bake or create…it's never enough. Perfect always demands more, but it's never satisfied. Never.
Whether you are a "good girl," who always tries to be what you think everyone else wants you to be, or a "never good enough" girl, who's desperately hiding your past and shame behind attempts to measure up—this book will help you find the beautiful, loving, fulfilled woman God created you to be. Imperfections and all.
Breaking Up with Perfect will help you:
• Experience authenticity as the antidote for isolation
• Trade the Lies of Perfection for the Truths of God's Love
• End the pursuit of perfection, so God can begin His powerful perfecting work in you
After reading this book, you'll be able to end the never-ending stress that chasing Perfect brings and live a life filled with joy, peace, and spiritual fulfillment.
About the author: Amy Carroll is a popular, nationwide speaker with Proverbs 31 Ministries. She is a regular contributor to Encouragement for Today devotions, which are distributed to over 750,000 subscribers daily. A graduate from the University of North Carolina at Chapel Hill, Amy, her husband, and their two boys live in Holly Springs, NC.
Genre: Non-fiction/Religion/Christian Life/Women's Issues
Reminds me of: Love Idol by Jennifer Dukes Lee
[Tweet "Are you a Good Girl or Never Good Enough? Either way, this book offers help @AmyCarrollp31 @TheBlogSpotCom"]
Reflection: Getting me to say yes to reviewing this book wasn't much of a hard sell. I immediately understood what it is about, the whole idea of letting go of perfection. It's an area of my life I've been tending to for some time now, and I can honestly say, in most ways, I've moved past the worst of it. So that now, interestingly, I've actually been put in the position of counseling a friend as she works to release her own perfectionist tendencies. To let good enough be, well…good enough.
In case you're wondering, perfectionists are generally born or made. Me, I was born that way, and now I see it in my daughter too. (Which is another reason this book was of interest to me. Now that I've mostly moved past my own struggle, how do I help her?) Others, like my friend, have been molded into perfectionists by the expectations of people around them, which usually includes parents, teachers, and coaches. Perfectionists are usually divided into two camps: the Good Girl, and the Never Good Enough.
What I like about Amy's book is that it gets to the heart issue — just what you would expect from a Proverbs 31 Ministries leader. Her content is thorough as she exposes perfectionism layer by layer, addressing wrong beliefs, skewed values, and selfish actions, arriving finally at an examination of what it takes to be able to let go of perfectionism so that we might live freely and love deeply.
My one caveat about this book is this: if, upon reading my reflection, you are left scratching your head, having no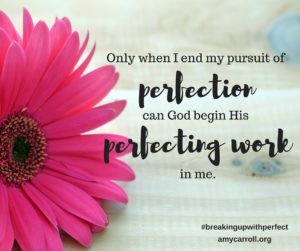 idea where any of this is coming from, take a pass on this one. You may view the contents of this book with some interest or even curiosity, but most likely you'll struggle to relate.
If, however, as you've read this you've been nodding your head, wanting to know more — well then. This one's for you.
Thanks to The Blog Spot and Howard Books for providing me a free copy to review. All opinions are mine.
Don't miss this giveaway!  Enter here: a Rafflecopter giveaway
After words: Do you struggle with perfectionism? Was yours born or made?