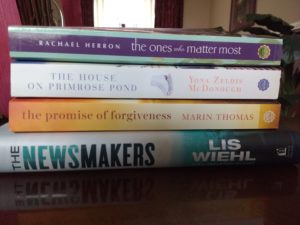 I can't always anticipate the books that arrive in my mailbox.
Some I've requested, others find their way to me unannounced. Either way, with a plethora to pick from, I have to be choosy. At the same time, I love giving a chance to books I might not otherwise consider–because they're outside my preferred genre, perhaps, or by a debut or new-to-me author. Sometimes the gamble pays off, sometimes it doesn't. In any case, what does or doesn't work for me might hit you entirely differently. Here's a glimpse into several books that have recently arrived in my mailbox.
The Ones Who Matter Most. A line from the back cover prompted me to give this one a try: "What begins as one woman's search for truth becomes a deep bond forged between the unlikeliest of people…" That bit told me this story had the potential to be one of my favorite kinds of women's fiction, the sort that includes a quest bound up in complicated human relationships. In the end, however, this one didn't work for me as I'd hoped. The main character possessed a crassness I simply didn't enjoy, and the story touched on values I don't embrace, which made it further off-putting. That said, I can still attest to the narrative's vibrant energy and–as indicated above–an intriguing story line that many fans of women's fiction will enjoy.
The House on Primrose Pond. I do like a quest story in which the heroine is bound for discovery: to solve a
mystery, to know the unknown. When that quest is set in an appealing location–whether that's urbane, gothic, or in this case, more on the cozy side, it ups the appeal. Of the characters in this novel, I especially liked dear Jack, the 13-year-old son with the indomitable attitude and good cheer. He added a bright foil against his sister Cally's surliness and his  mother Susannah's grief-stricken angst. In the end, I liked this novel but didn't love it, and what held me back came down to subtleties of style–the rather languid pacing, lackluster dialogue. With the exception of Jack, I liked–not loved–the characters too. Of course characters have to have flaws, else they're flat and boring, but sometimes the strengths, flaws, and moral fiber that goes into the characters can make all the difference between making or breaking a book.
[Tweet "In my mailbox this spring: 3 books from @BerkleyNAL & 1 from @TNZFiction"]
The Promise of Forgiveness. In addition to quest novels, I tend to like second-chance novels as well–which was why I said yes to this one. Plus, it claimed a few endorsements from
respected authors that indicated potential. The first paragraphs successfully connected me to the story's heroine, Ruby Baxter. But the thing that made me decide no, thank you? The profanity, specifically the f-bombs dropped into the narrative right from the start. I'm not particularly squeamish when it comes to profanity in my reading–if it's there for a reason, fine–but even then, immediately usage is generally a tip-off that the story's not going to head where I want to go.
The Newsmakers. Of the books mentioned here, this is the only one I haven't yet had the chance to read. It came to me from Thomas Nelson, a Christian publisher that's now also putting out books that are far more mainstream. I've read only one other by Lis Wiehl (Snapshot, reviewed here), and while I understood why that one came commended, it failed to capture me. Perhaps this one will do more. Who knows? If I find myself in the mood for a plot-driven, high-stakes, adrenaline-fueled suspense, it might.
Thanks to the publishers for providing me free copies of these books to review. All opinions are mine.