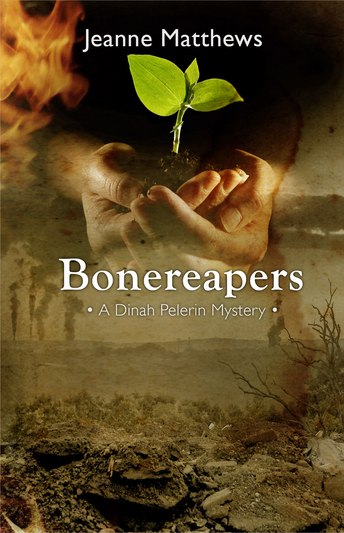 I recently had the pleasure of meeting novelist
Jeanne Matthews
 when we both showed up for a Friday night wine tasting at our favorite local wine shop,
The Wine Alley
. Jeanne writes what she calls "international cozies," murder mysteries set in locations beyond our shores. 
Bonereapers
is the third in her Dinah Pelerin Series.
From the back cover: Hewed out of a frozen mountain six hundred miles from the North Pole, the Doomsday Seed Vault was designed to safeguard the earth's precious collection of seeds from rising sea levels, hurtling asteroids, nuclear holocaust, and every other conceivable disaster. But no fortress, however remote or carefully constructed, can protect against human corruption and men who have made it their business to gain control of the world's food supply.
Dinah Pelerin had no idea when she left sunny Hawaii on an undercover fact-finding mission to the seed vault in Longyearbyen, Norway, that she would get a crash course in the politics of genetic engineering, or that she would become embroiled in the marital troubles of an American presidential candidate and his enigmatic, Norwegian-born wife. Or that a dead body would tumble out of the hotel sauna into her arms. In late December, Polar Night wraps around the little town of Longyearbyen like a lead blanket, impenetrable and endless. The temperature rarely climbs above zero and bodies don't decompose in the permafrost. The dead have to be shipped south for burial and soon there are two murder victims headed there. Who has killed them, and why? With three U.S. senators, a powerful corporate CEO, and an Norwegian government minister as her fellow suspects, Dinah is under no illusions. She had better untangle the knot of motives and pretenses fast or suspicion will come crashing downhill like an avalanche and bury her so deep she'll never see daylight again.
I love a good mystery, and this one is as fine as any I've read in years. Jeanne visited Norway before she began to write, and the result is this impressively researched novel. She offers intriguing settings and events based on real life. She crafts a zesty protagonist who interacts with plenty of noteworthy characters. Every page is filled with snappy dialogue, deft turns of phrase and adroit plotting. All in all, a very smart mystery.
My only complaint goes to the cover. I'm guessing the publisher meant to keep the artwork in line with the rest series (the first set in Aboriginal Australia, the second in Hawaii), but this novel takes place entirely in icy Norway. The cover doesn't begin to reflect the "feel" of what goes on inside. I found this mystery to be a delightful read, the perfect way to spend a long wintry evening before the fire. Not sure I would have guessed that had I been judging appearances alone.
4.5/5 stars. A cozy mystery for the intelligent reader.
You can read more about Jeanne's books and visit her online at www.jeannematthews.com.