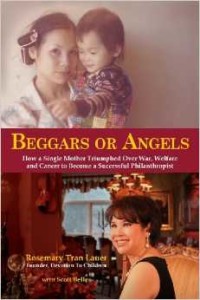 A Life of Hope, Resilience and Devotion

Beggars or Angels: How a Single Mother Triumphed Over War, Welfare and Cancer to Become a Successful Philanthropist by Rosemary Tran Lauer (with Scott Beller)
About this book: Imagine waking up tomorrow in a foreign land with no home, no money, no grasp of the language, no formal education, no friends or family for support, and with two kids under age three depending on you. What would you do? Beggars or Angels: How a Single Mother Triumphed Over War, Welfare and Cancer to Become a Successful Philanthropist tells the inspirational story of Rosemary Tran Lauer, a mother who found the will and a way to survive when faced with this overwhelming scenario.
Drawing on her strength, bold resourcefulness, and sense of humor, Rosemary was eventually able to give her family a wealth of opportunities they wouldn't have dared dream about in the war-torn homeland they left behind. A courageous welfare-mother-turned-philanthropist, she was willing to sacrifice everything but her self-respect for the sake of her children's futures . . . and for the futures of thousands of families around the world. Beggars or Angels is about one woman's dare to care and her persistent search for a reason "why." Once she discovered it, Rosemary transformed her years of struggle into an altruistic ambition and purpose-the child care advocacy nonprofit Devotion to Children.
About the authors: Rosemary Tran Lauer was born in Vietnam but has lived in the U.S. since 1975. She spent more than 20 years in the beauty industry before founding her non-profit organization, Devotion to Children, which serves to give disadvantaged children and their working parents a brighter future. Now a commercial realtor, wife and mother of five, she lives in Oakton, Virginia, with her husband.
Scott Beller is a 20-year public relations-industry veteran, writer, independent consultant, and work-at-home dad. He helped launch DADS Unlimited and Reel Fathers and is a part of Devotion to Children's Advisory Board. He was named 2003 Volunteer of the Year as a youth mentor for New Hope Housing. He lives in Arlington, Virginia, with his wife and two daughters.
Genre: Non-fiction/Memoir
Reminds me of… Home is Where the Suitcases Are by Marilyn Beckwith
You'll want to buy this book if … you enjoy true rags-to-riches and American success stories; you have a heart for the disadvantaged and/or an interest in Devotion to Children.
My take: People are interested in people. We like knowing their stories so that we may relate to them–which is what makes this little memoir an appealing read. It is, at its heart, about people–and about one rather remarkable person in particular.
Rosemary Tran Lauer's story is about one woman's lifelong search for the reason "why"—her quest to find good purpose for many of the unsavory things that happened to her. This is, of course, one of the biggest and most profound questions any of us can ask. The search for purpose is one to which we can all relate.
In telling her story, Rosemary attempts to connect the many seemingly random "dots" in her life in order to form a recognizable whole. Some of these dots include her conversion from Buddhism to Christianity, her being chased from her homeland by war, two shattered marriages, the struggle of a single mother to raise her family, and a cancer diagnosis.
On the surface, my life has little in common with Rosemary's, yet in reading her story, what struck me were not the differences, but the similarities. This, for me, was what made reading this memoir worthwhile. It demonstrates that while people around the world may speak different languages, have different skin pigmentation, and live in different postal codes,  we all dream dreams, love people, desire happiness, and seek meaningful purpose for our lives.
Thanks to Scott Beller for providing me a free copy. All opinions are mine.
End notes: Rosemary's goal in telling her story was not merely to tell it for its own sake, but to publicize her non-profit organization. If you are interested in learning more about helping disadvantaged children, please visit DevotionToChildren.org. Proceeds from the sale of this book benefit the cause.
On a more personal level, regarding the topic of connected dots–I can't help but remark on my discovery that quite a few of Rosemary's random dots connected with mine. For example, her story begins in Vietnam, takes her briefly to the Philippines, and culminates near Washington, D.C., in Northern Virginia. During those same time periods, my father was in the U.S. Navy serving two tours in Vietnam. Then my family was stationed near Manila—at the same time Rosemary and her two young children were making a layover there. Ten years later, I was living in Northern Virginia while my dad was stationed in Washington, D.C. Rosemary and I probably lived just minutes from each other, may even have passed each other while shopping at Springfield Mall. Fast forward a couple of decades—with me now living across the country in Washington state—and her ghostwriter stumbles on my blog and requests a guest spot for her book. Yet another connection. 
It is a small world, after all.